The Concrete Cutter
The Concrete Cutter Ltd is a specialist Concrete Sawing and Drilling company based in Nelson. 
The company uses high-tech cutting and drilling gear, including diamond wall and wire saws or large and small diameter core drills to cut through reinforced concrete pillars, beams, walls and floors, and even steel.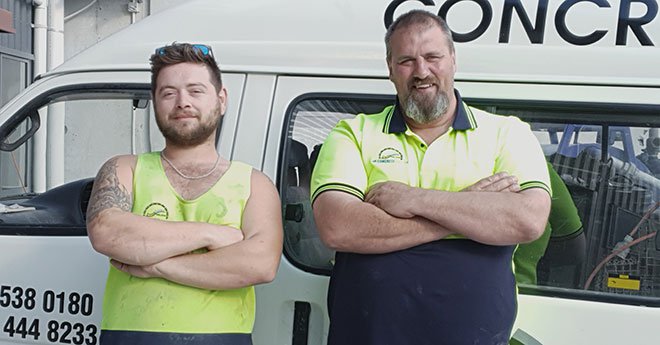 Director Phillip Chilton enjoys working through the methodology of the work. He admits that satisfying the huge environmental waste considerations and navigating through tricky client requests are some of the regular challenges faced in this industry. However, there is much satisfaction to be found in problem-solving for the client and overseeing an enthusiastic 'set and forget' team. Typical applications for their work include cutting reinforced concrete for the demolition of existing structures, sawing junctions in large pipes and cutting joints for concrete slabs.   Phil has recently joined our Concrete National Advisory Group and also sits on the board of the NZ Concrete Contractors Association.
In 2019, Joel Pomare completed his National Certificate in Concrete Construction (Sawing and Drilling Level 3) under Phil's guidance and with the support of our training advisor Stephen Needham. Joel's competition entry for Concrete Apprentice of the Year 2019 was placed Highly Commended.
During his years as an apprentice, Joel has developed a detailed knowledge of the industry and thoroughly enjoys his work. He now drives his own van and carries out work on multiple sites each day with confidence. Interesting projects the team has been involved in include wire sawing boulders for memorials and cutting and grinding concrete slabs for decorative finishes. In the future, Joel may consider enrolling in our Supervisor qualification to take his learning to the next level. 
To those considering a career in Concrete Sawing and Drilling, Phil and Joel say, "If you're not scared of a hard day's work and want a job that, at times, can challenge you both physically and mentally, as well as gaining a skill set you could use anywhere in the world – go for it!"
More News
The Building and Construction Industry Training Organisation (BCITO) has set a record of 16,000 apprentices in training.
Have you heard? – the NAWIC Excellence awards 2021 are happening and open for nominations!