Concrete is thicker than water
Jake Wallen's family has been working with concrete for over 35 years, operating as Wallen Concreting Ltd. Some of Jake's earliest memories are of being on-site.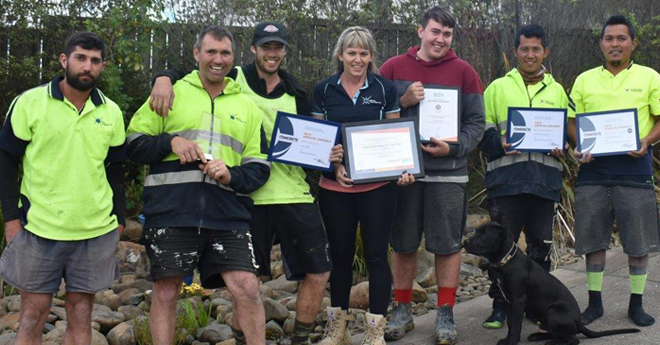 From the age of 12, Jake started helping out on small jobs, now eight years later he is working in the industry full time. 

With a lifetime of experience under his belt, Jake often works as a foreman, overseeing three other staff at the company. He is running jobs from start to finish and dealing with customers, suppliers and other trades on site. Jake really enjoys being in the outdoors and getting up to see the sunrise and sunset every day. He loves to screed and do the best he possibly can to keep up the quality of work - making sure he is leaving jobs finished well.
Jodie Wallen says that they are extremely proud of how far Jake has come. At only 20 years old he can already finish all types of concrete and works as the site foreman when the other supervisors are not onsite.  He has taken to leadership with ease and is managing the full aspects of the concrete industry.  
At some stage in the future, Jake will become a part-owner of Wallen Concreting Ltd.  He is a great asset to have in the business and Jodie believes he will be a great asset to the Concreting Industry in general. 
Jake recently received the New Zealand Concrete Contractors Association (NZCCA) Scholarship for his dedication to his work during his BCITO apprenticeship. 
Jake's BCITO Training Advisor, Jack Griffith, says that Jake comes across as a friendly, quietly spoken and confident young man. He has been well prepared for site visits and should fly through the qualification. He believes that Jake is likely to be very successful in this industry.
For anyone considering a career in Concrete Placing and Finishing Jake says, "It's a hard job for sure and you never know what to expect from day to day but if you have a good work ethic and drive behind you, you will be right.  You could also potentially end up with your own business one day."
More News
The Government has announced a $12.1 billion COVID-19 Economic Response Package for small to medium businesses and employees during this period of uncertainly.
The health and wellbeing of our industry's employers, apprentices, and our people are of paramount importance to us.