Creating opportunities
Builder Tim Iro started his business in 2019, and since then he has made it his mission to take on as many apprentices as he can. Originally from the Solomon Islands, Tim wants to help create opportunities for young Pasifika people who want to give building a go.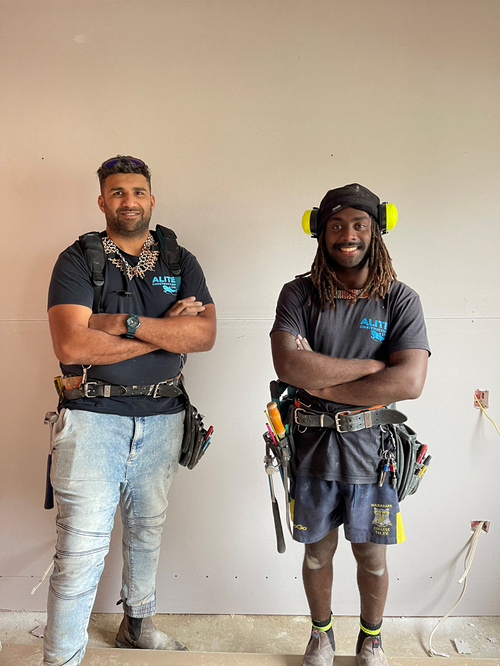 "I started my Wairarapa-based business, Alite Construction, only a year before the 2020 lockdown. It was a tough time, but it hasn't slowed me down or stopped me from taking on apprentices. I have just taken on some new trainees, and I am looking forward to teaching them how to be skilled builders, good colleagues, and employees. One thing I have noticed is the lack of Māori and Pasifika representation in the construction industry, which is why my goal is to encourage more young Māori and Pasifika peoples to embark on an apprenticeship. I believe in giving everyone a go, but at the end of the day it is about who has the drive and motivation to succeed."
Tim imparts a lot of building knowledge to his apprentices, but he also wants to make sure people who are thinking of starting an apprenticeship are given good life advice too.
"One thing I want to stress to young Pasifika people who are thinking of embarking on an apprenticeship is the importance of communication. If there is something you want to discuss with an employer or colleague have the confidence to speak up and communicate how you feel. This might be challenging at first but will set you in good stead, in the long run."
Kyle Rurai, who is also from the Solomon Islands but born in New Zealand, is one of Tim's apprentices. He always knew he wanted to be a builder as he has always been creative, has a passion for building, and wanted a job that allowed him to be active.
He is now in the third year of his BCITO apprenticeship and is loving every minute of it.
"Since starting my apprenticeship with Tim, I have been lucky enough to work on a variety of projects. At the moment, we are working on a retirement village, which is a great new challenge to take on, as I've had less experience in commercial orientated construction."
Like Tim, Kyle wants to encourage young Māori and Pasifika peoples who are considering an apprenticeship to give it a go.
"I would encourage anyone who has an interest in building to do an apprenticeship. Especially if you are young, there is no harm in just giving it a go. If construction isn't your passion, BCITO offers all sorts of different trade apprenticeships, there are so many options to choose from."
Tim encourages all employers to take on apprentices like Kyle. For Tim, there is nothing better than seeing someone finish school, kick start their career in construction, and develop into a successful builder.
New Zealand needs more diverse young people to consider a career in the trades. BCITO can help. Learn more here.
More News
Wood Solutions have been carving out the way for sustainable practices and diversifying their workforce. They are minimising and repurposing waste and create a healthier and more welcoming workplace where 1/4 of their workshop are female.
Jenna Toailoa and her husband Manu's RedRock Plastering has been making a name for themselves with their high quality work all the while taking on apprentices, showing it can be done!