Creating professionalism through training
Matt Wiig and Jason Morris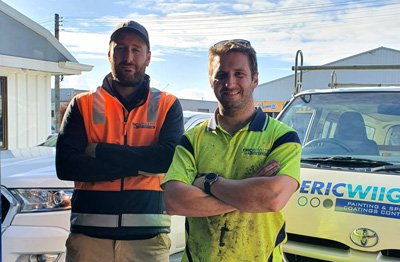 Eric Wiig Ltd has been in business for 50 years and managed by three generations of the Wiig family. Through the company's history, they have been involved with training apprentices. They believe in the value it creates for their company and their people. Matt Wiig, the Director and Project Manager of Eric Wiig Ltd says, "Apprenticeships force people to develop the technical aspects of their trade. This tends to encourage them to see the work they do as a career rather than a job, which raises the overall professionalism of the company. It also keeps them around the company longer."  
Jason Morris, an employee at Eric Wiig Ltd, lives his company's commitment to training. Jason has completed his qualifications in Resin Flooring, Painting and Decorating and is currently working through his Construction Related Trades (Supervisor) qualification with BCITO. That's right, he's two qualifications down and about to tick off another! 
Jason got his start in the industry when he joined up with Eric Wiig Ltd. "I got sick of retail and didn't really know what I wanted to do. I knew Rick (Matt's father) from years ago and managed to get an interview. When I first started I had no prior skills, but I took an interest and got stuck into it," says Jason. He was keen to formalise his skills by signing up with BCITO. "I wanted to get the skills I needed to improve what I was doing onsite. It also helps you to have a qualification to show your experience," he commented. Jason first completed his Painting and Decorating apprenticeship before moving on to achieve his second qualification in Resin Flooring. Jason says, "There are a lot of skills that are transferable between the two trades. I went through the experience recognition process for flooring. At that point, I had six years' experience working with resin. BCITO helped make this process really straightforward." 
Jason has been with Eric Wiig Ltd for eight years now and is currently working towards his Supervisor qualification with BCITO. He says, "I'm now learning how to lead teams and picking up a lot of important skills like how to communicate with clients and employment legislation." During our interview, we asked Jason what is the most valuable thing he has learned during his multiple apprenticeships. Jason says, "Understanding the process of what you're trying to achieve. Rather than just being given the job and instructions by Matt, I can understand why I'm using a certain product over another and the correct techniques to apply it." Matt echoed the importance of developing Jason into a technical worker rather than an experienced brush hand. Matt says, "Having BCITO qualification shows that someone was being taught the right way."
More News
As free trades training starts, being an apprentice and training in trades have become so much more attractive.
WorkSafe would like to ensure that you are aware of the risks of working with engineered stone benchtops, used primarily in bathrooms and kitchens.