Creative future for award-winning apprentice
Azure Kutia of JB Painting and Plastering Ltd, Whakatane loves her hands-on plastering work so much that she has dropped her university studies to take it on full-time.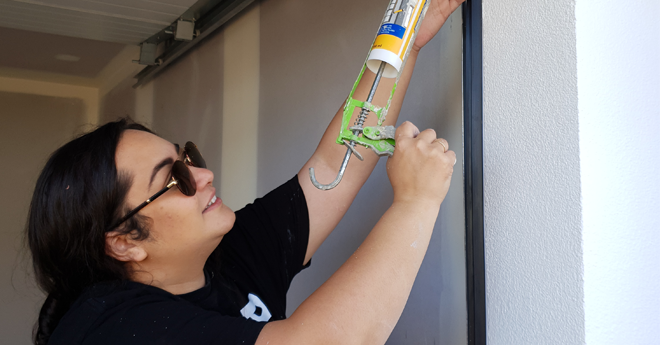 Azure has been sought out for high-end jobs by customers for a while now. Her attention to detail recently gained her the title of Resene Construction Systems Apprentice of the Year 2019. Working for her uncle Jonbarrie in Whakatane, and progressing through her BCITO Exterior Plastering apprenticeship, Azure is loving the construction industry! 
Azure has now been in the Exterior Plastering industry for around 4 years. Her journey started in Christchurch when she was asked to help her uncles Jonbarrie and Gene during a uni study break. They had travelled to Christchurch to assist with the rebuild and needed some extra help. 
While she found it physically challenging in the beginning, Azure is much stronger now and laughs when describing how she started off having to carry a bucket of plaster in tandem with her sister Cherize. She can now carry two buckets at a time and likes to compete with the boys on the trowel. 
Jonbarrie says that Azure has a good attitude, works hard and is consistent in her work. He appreciates that she asks questions and that she is committed to getting the detail right. Azure, on the other hand, enjoys being able to do a bit of everything and appreciates how Jonbarrie has encouraged her to work harder, smarter, stronger and faster.  
Azure says "Uncle Gene is very technical and has helped me in my understanding of weather tightness detailing." She says that they adopt an "it's not broken unless you can't fix it" approach.
Her BCITO Training Advisor, Scott Braithwaite, says that Azure impressed him from the day he met her. Her interest in other trades, her practical ability and impressive skill set combined with her drive to succeed sees her cleaning up the guys - she was even drawing up plans for her mother's house! She doesn't want to stop developing and is achieving along the way as she looks to train further.  
Azure says, "Builders now prefer having 'the girls' to do their work as they know that they will get the job done right in a clean, tidy and methodical way."  
When she has completed her trade Azure would like to study Architectural Design and someday run and/or own her own business focusing on Artisan Plaster. She is pleased to have done the hard yards and gained industry credibility.
To people considering a career in Exterior Plastering Azure says, "If you want a trade that is innovative and constantly evolving, one that encourages creativity and forward-thinking then Exterior Plastering could definitely be the trade for you. Because it's so much more than just putting mud on a wall." 
More News
The Government has announced a $12.1 billion COVID-19 Economic Response Package for small to medium businesses and employees during this period of uncertainly.
The health and wellbeing of our industry's employers, apprentices, and our people are of paramount importance to us.