Culture trumps everything
Specialising in high quality exterior and interior timber windows and doors typically for residential new buildings and renovations, McNaughton Windows & Doors Ltd in Auckland has been in business for eighty years. Recently the McNaughton family entrusted their life's work into the capable hands of Andrew Riley.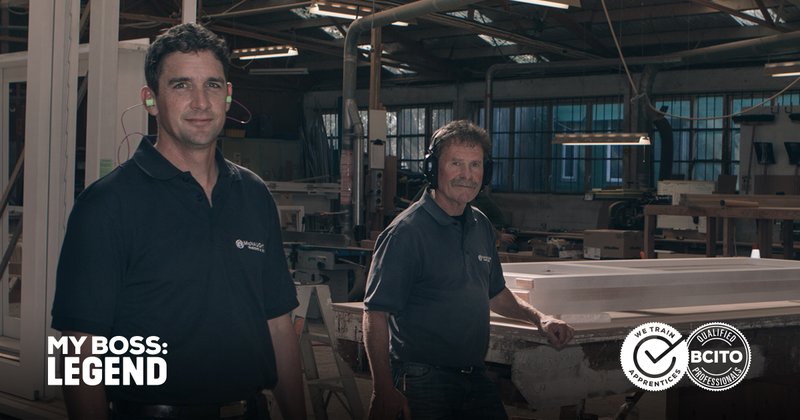 With a team of forty and many jobs on the go at any one time, Andrew knows that to build a productive team the most important pieces of the puzzle are workplace culture and making sure people are motivated. He says, "For a happy workplace, culture trumps everything. While the goal is more about respect for each other than friendship, the two are not necessarily exclusive of one another." For Andrew, his team are also his friends.

He says, "Empowering the right people within your business means they will work out together what needs doing. We team like-minded people up together. The apprentices gather each Tuesday at 7 am with the Factory Lead and me, and we share their successes. Even more powerfully, they are willing to share their mistakes and identify their own coaching requirements at these sessions.
"We've identified a group within the business who are our 'masters'. These people hold regular masters clinics on topics ranging from how to set up, maintain and sharpen a buzzer, through to how to select and optimise timber."
Teamwork goes hand-in-hand with leadership at McNaughtons, and these are the two things management talks about most. Andrew says, "Team members develop with a mix of on-the-job and impromptu coaching where experienced joiners play an active role in coaching, and less experienced joiners value that experience and enjoy learning. Individuals are also challenged to rotate through different departments, depending on what skills they are interested in gaining and what will lead to the best result for our customers.
"The right people shape the culture, and when the culture is good, people stay
"Naturally, things ebb and flow a bit, and often someone with courage will step up and challenge the leadership team to do things differently. It's our job to listen and react."
Legend 'wise words'
an effective leader is surrounded by many people who are much, much better than they are!
a commitment to industry training means it's our responsibility as employers to train and BCITO is there to support us. Not the other way around.
best business decision was getting involved with this bunch of people. It's ultimately a privilege for me to be part of our team.
life-long learning means avoiding the temptation of complacency. It's always possible to improve. 
at the end of a tough week I enjoy a beer on the factory floor with anyone willing to join me!
in 5 years I hope many more of our people have achieved many more successes because the upshot will be an even stronger business.
Andrew Riley, McNaughton Windows & Doors Ltd
View Andrew Riley's story and more stories about other legendary bosses.
More News
The Building and Construction Industry Training Organisation (BCITO) is pleased that the Government is moving quickly to establish the first construction Centre of Excellence (CoVE).
BCITO comes on board this season to become the front of jersey and official sponsor of the Waikato Under 19s team.