Designing life for herself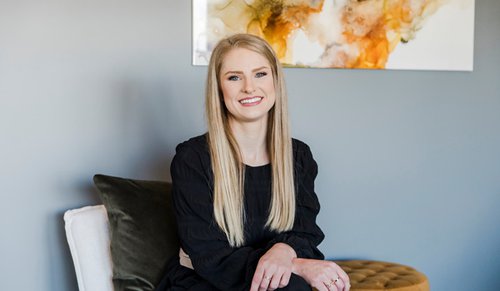 Conversations about business owners adopting innovative ideas during a crisis to drive revenue aren't uncommon. Nor are chats about the unexpected side effects of people being confined to their homes, living new and completely different lifestyles. For many homeowners, this adjustment has led to a 'love it or list it' styled ultimatum, many opting to love it and change it instead.
For aspiring entrepreneur and designer, Katherine Lightfoot, the level 4 lockdown earlier in August provided her a moment suspended in time to lean into this disruption and thus Kella Design Co. made its debut as a result.
For Katherine, Kella Design Co. was a given, "It was clear from a young age that my passion lay within the arts, it was where I'd strive to excel and business ownership would one day be a part of that journey." Her love for design has always been prominent, starting with an interest in fashion then her fascination turned to Spatial versus Textile Design. Interior and exterior architecture speak to her from an artful science and social sense. She shares, "I deeply appreciate the fabric of the seats in a restaurant or the countertop at a store, the construction of a building or the flooring of an old hotel. Certain aspects which others may never even notice."
Her second passion is travel, exploring new and inspiring places around the world. Katherine shares how lucky she and partner James were to experience Europe one year before the pandemic. She felt an overwhelming sense of connection to the spectacular architecture, especially Gaudi's work in Spain, where she spent hours admiring the Sagrada Familia.
Before starting Kella Design Co., Katherine graduated with her three-year degree and took on her first full-time job working for an award-winning, reputable interior design company where she stayed for nearly six years, further developing her skillset with 4 years of post-graduate studies.
Aside from living and breathing design, loyalty is critical to her, a valuable trait that she prides herself on and has implemented within her business.
Kella Design Co.'s core values are quality, innovation, authenticity, collaboration, enthusiasm, and dedication. "My goal is simple," Katherine says; "to make great design accessible through industry connections and designer concessions which we make an effort to share with our clients. Everyone deserves the joy of coming home or working in a beautiful space that they are proud of and will thrive in."
Acknowledging Katherine's passion, I wondered if Kella Design Co. could be endorsed by anyone and who might that be? Each nominee was matched with a beaming smile. "Kella Design Co. would love to work with NZ icons like Gemma and Richie McCaw, Sir Peter Jackson … then there's also Gordon Ramsay or Heston Blumenthal. To design a kitchen for either of these culinary masters would be a dream come true."
Katherine's sureness is undeniable; she attributes this to education, experience, family, and industry. New Zealand's design network is anchored by its association with the National Kitchen and Bathroom Assn. or NKBA. She says, "COVID-19 has seen ours and many other construction industries flourish. Designers are busy and more connected as a sector than ever before. While members are competitive, our ethos is to collaborate and inspire, not compete.
"I am grateful to have discovered a career so early in life that I know I was made to pursue. To other designers considering a start-up, now is the time, the industry is thriving. So let's push the limits, keep the standards of our industry high and break the myths surrounding interior design!"
BCITO wishes Katherine all the future success for Kella Design Co. and looks forward to seeing Heston or Gordon's new kitchen by Kella Design Co. in the 2023 NKBA Design Awards.
More News
Press release 18 October: Te Pūkenga is commencing engagement on its proposed Operating Model today.
Te Pūkenga adds building and construction to its toolbelt today, as the arranging training functions of the BCITO were transferred to Te Pūkenga Work Based Learning Limited.