D & R Decorating
Sofie Graf-Russell, Sonja Kahila, and Katrin Wehr have a lot in common: They were all previously working in the hustle and bustle of Queenstown's hospitality industry, they all have partners working in the construction industry who encouraged them to pursue a career change, and now they're all loving life having started new careers as painting and decorating apprentices.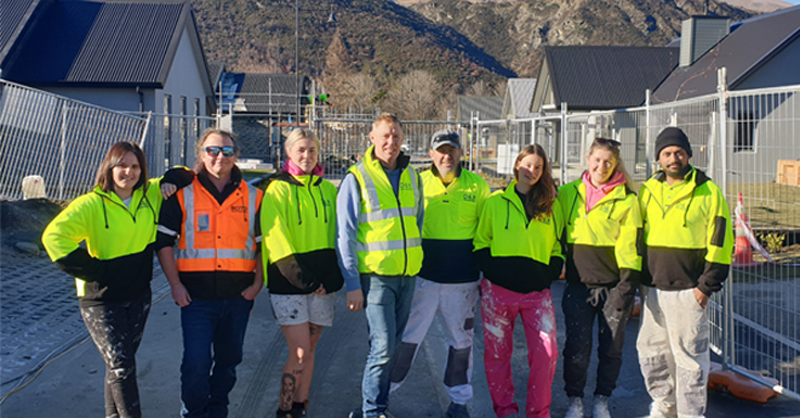 Before making the decision to change career paths Sonja says that she was at a point where she hated going to work. "I was sick of it when I got home." Then she adds jokingly, "my partner also got sick of me complaining about it all the time." Clearly it was time for a change and this group of women found it at D & R Decorating, a local Queenstown firm run by cousin duo Greg Douglas and Matt Ryall. 
These women explained that switching from hospitality to the painting and decorating industry has not only given them better hours and better pay but they're also in an apprenticeship working towards a better future through gaining a formal qualification while avoiding crippling student debt. When asked about their career highlights so far the apprentices all spoke about the amazing opportunities they've had to work on very high end homes in the local region. When I visited them, I got the chance to see a job that Sofie had managed, which was a truly stunning home that answered the question, "how do the other half live?" Additionally, two of the apprentices are currently using their new found trade skills to renovate their own houses. 
The decision to take on a painting and decorating apprenticeship has been life changing for these women, but Greg and Matt also say that taking on apprentices has been great for their business. Greg and Matt started D & R Decorating Ltd in Queenstown 15 years ago. Employing apprentices has helped provide the company with a stable workforce, as they have been very loyal to the company. This is of particular importance to D & R Decorating, as they operate in Queenstown which is famous for its highly transient workforce. Greg says, "putting our staff through an apprenticeship allows us to train our people our way and to the standard we require. With our apprentice staff I have confidence to know that the job will be done well, and they can explain to me where it's up to." 
Greg also explained that their company culture has been developed through taking on apprentices and that this sets them apart from other firms. The three women all agreed, saying, "everyone is happy when they turn up to work and we're all ready to have a laugh." Greg adds, "everyone also learns from each other's mistakes. No one is scared of coming forward and asking questions or seeking help when they need to." These positive changes has led Greg to work towards only hiring people that are willing to take on an apprenticeship when they join the company. 
Greg is walking his talk. The company have previously trained two other apprentices. Dana Leanne Wild completed her qualification with D & R Decorating and has been working with them coming up six years. She's now looking at continuing her study with BCITO by enrolling into the Supervisor Qualification. Greg is also interested in signing up two more of their new starters into apprenticeships in the near future. This company is going from strength to strength with training as a backbone. It was a pleasure to meet Greg, Matt and the team and I wish them all the best. 
More News
PRESS RELEASE 14 MAY 2020 - Speaking today after the announcement of the Budget and the $1.6 billion Trades and Apprenticeships Training Package, Warwick Quinn, BCITO Chief Executive congratulated the Government.
A summary of the meeting held on 7 April.