Employer of Choice - McDonald Concrete Group Ltd
McDonald Concrete Group Ltd, Whanganui has been producing a wide range of concrete precast products for the past 28 years, including water tanks, pipes, septic tanks and most common farm and residential concrete products.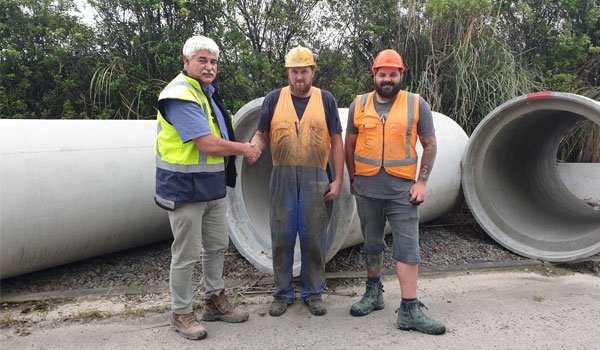 Ian, Daniel and Greg - McDonald Concrete Group Ltd
Growing from the original 1932 Walter Larsens & Sons 88 years ago, McDonald Concrete Group Ltd now employs over 35 staff in production and logistics and supply the market from the deep south to the far north. The company has outgrown two previous sites and is still rapidly expanding to meet customer and diversity demand. Technology, communication and good management keep them competitive while they work on innovations within the industry.
"We are trying to grow people with the company, and grow their roles with it. Once the people grow then the company can grow," says managing director Ian McDonald. "We have valuable staff members, and we want to keep them."
Greg McDonald joined the business after working in the fast-paced automotive industry. He brings a passion for productivity and efficiency to his role as production manager. Leading by example, his real goal is for the people of the company to grow. He says, "I want the guys to have pride in their work; to be able to say, 'I made those pipes under the ground that we are driving over,' and 'there is another one of our water tanks!'"
BCITO apprenticeships are one way the company is encouraging its staff to develop. By creating a pathway for continual learning and encouraging the recognition of employee skill and knowledge, the training culture has now reached the point where staff are asking to start apprenticeships! In the attached photograph, Daniel Murray is being congratulated by Ian and Greg McDonald on his soon-to-be-awarded precast tank qualification.
Darryl Lark, BCITO Training Advisor who mentors the concrete apprentices, says, "McDonald Concrete Group Ltd is motivated to get staff involved in training and is good to deal with. They are interested in the industry and in providing opportunities to locals."
Always looking for ways to make the job easier and safer, Greg runs regular toolbox meetings to get feedback. As a result, the company has implemented several methods to break up any monotony in the workplace, aid the smooth running of the factory and utilise the staff's multiple skill sets. Greg reports, "People seem to enjoy working here. We have a social club, but they also hang out after work together."
McDonald Concrete Group's approach seems to be working well. In a time where labour resources are in short supply, employees are recommending the company to their friends and whānau as a good place to work. "This work is creative, productive and getting busier!" raves Greg.
"We relish the right work ethic and reliability in people," says Ian. "This industry is for people who want to see something concrete come out of their efforts."
More News
The Building and Construction Industry Training Organisation (BCITO) has set a record of 16,000 apprentices in training.
Have you heard? – the NAWIC Excellence awards 2021 are happening and open for nominations!