Enthusiasm growing for a future in the trades
NZA Apprenticeships CEO Chris Hilson knows all about the importance of growing the next generation of skilled tradespeople and says joinery apprentice Kayla Pountley is a great example of the talent and enthusiasm available.
When Aucklander Kayla Pountley left school, she headed to uni, because that's just what was expected.  She spent the next couple of years dipping in and out of a range of subjects and watching her student loan climb.
"Then there came a range of jobs – I worked in an office for a year and also tried out Real Estate - but nothing really appealed."
Next Kayla (27) picked up some work painting houses and started to feel like she was getting closer to what she really wanted to do – maybe it was a trade.
"My Dad's a builder, and so I knew what was involved and started to look out for apprenticeships."
At that time, Kayla was on a benefit and one of the ways the Ministry of Social Development supports people find jobs is the partnership with NZA Apprenticeships. It also underpins where Government is helping build capacity in the construction sector. 
"I got a call from the NZA Apprenticeships' business manager who said 'there's an opportunity for labouring with a joinery company if you are interested and it's a good stepping stone into a trade'.
"I took it and loved it. I love seeing what we create – the doors and windows and seeing how it all comes together. It's quite physical, so a good mix of things and no one day is the same."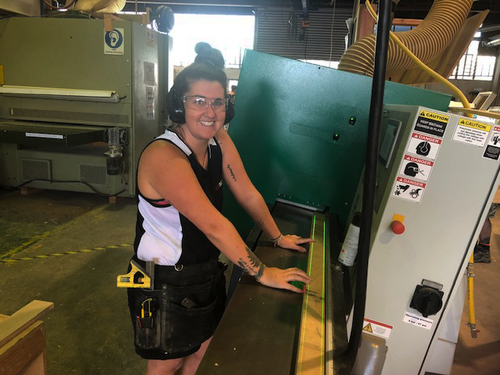 Kayla had been working at Next Level Joinery for the past year, and her bosses are really happy with her work and how she has fitted into the team. They've offered her a joinery apprenticeship and Kayla couldn't be happier.
"The best thing is the opportunity I get to work and learn at the same time.  I've finally found something I love, and I love going to work."
Being in a male-dominated industry hasn't phased Kayla, and she is quick to recommend a trade apprenticeship to her friends.
"I reckon you've got to go out and give it a go.  I spent time trying to please people by going to uni, but this is what I truly want to be doing."
Chris says NZA is seeing a growing enthusiasm for the trades and it will continue to be important given the planned growth.
"Programme's like Skills for Industry and Mana in Mahi are opening up opportunities for people who may not have considered apprenticeships and helping businesses support the next generation as they're training. Everyone wins."
The NZA partnership is supported by Industry Partnerships, Service Delivery, and forms part of MSD's commitment to the Construction Sector Accord. 
More News
The Building and Construction Industry Training Organisation (BCITO) has set a record of 16,000 apprentices in training.
Have you heard? – the NAWIC Excellence awards 2021 are happening and open for nominations!