The environment is at the heart of each design
Life is busy and diverse for Hannah Withy, award-winning bathroom designer and owner of HM Design.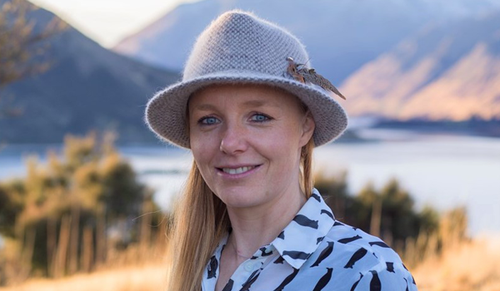 One of the first things that strike you when meeting Hannah is her humility and graciousness. These two qualities are amplified as the conversation flows and Hannah speaks of her career, family, and sustainable practices.
With a bag of saplings under one arm from her 15-acre block in Wanaka, Hannah shares her story and passion. "I started my career completing a Bachelor of Industrial Design at Massey University in Wellington. My first Kitchen Design role was for a large building merchant, where I progressed to Team Leader and led the kitchen design department. We offered custom-made and flat pack kitchens, so I learned how to work with the quirks of both types of cabinetry," says Hannah.
With resilience, knowledge, and on-the-job skills, Hannah left New Zealand in 2010 for Europe.
Hannah shares, "I spent a year working for a large Italian company, which was on a completely different scale compared with what I'd experienced in NZ. Going to Eurocucina was something I'd only dreamed about. However, my time with this company made it possible. I spent several days as the UK representative on the stand and have to admit I do look forward to returning one day but next time as an independent qualified NZ designer."
After five years abroad, she returned to Wanaka and designed for 12 months at a local Kitchen design studio before the arrival of her first child.
She shares on her return to work "I had a quick realisation that things were now not as they once were, which drew me to the conclusion that I needed flexibility in my role as a Kitchen Designer. This decision inspired my first company Pimp My Flatpack an authentic, honest starter business that provided a pipeline of work on mid-level flat pack kitchens.
"This company provided me with the knowledge to learn and forms the foundation of HM Design today; my bespoke business also pulls from the ideas and environmental future-forward concepts seen at Eurocucina. I have a new design process that considers the balance between materials, waste, function, and the environment."
By stealth Hannah is an advocate and ambassador for the environment, something she holds close to her heart. "I feel genuinely disappointed knowing the amount of waste that a building project creates and the lack of thought or care that goes into the disposal of offcuts and packaging. We can't deny that we have one planet and a fixed amount of resources, and we have to look after it. In my opinion, the construction industry, in general, doesn't look after the planet. I acknowledge slow change, both in the actual construction process and how houses are designed, but it needs a massive ramp-up to get to where it needs to be.
"I once rented a house in Wellington that had a kitchen that was about 30 years old. It was simple in its design. It was white, so yes, possibly dull, but a classic. When I moved in, it had dated handles, all I did to spruce it up was change the hardware. Once done, it went from boring to fresh and modern. This transformation would not have been possible had its design not been classic in its styling. Its fundamentals worked, and therefore nothing further was required.
"I can't change the world, but I am changing my world, one client at a time. Education is the key, right? I choose to spotlight products of high quality (which typically last longer), are sourced sustainably, and complement the environment where they will be built.
"I also consider things like sheet size of joinery fronts to minimise wastage. The product or material origin - miles travelled. And lastly, I aim to arrive at a design that will survive fashion trends and be loved by my clients.
"I'm very proud of HM Design and the direction it forges, the positive influence I have as a role model for my children, the opportunity to counter carbon emissions by planting 750 trees being a mix of native and exotic. Life as a designer, mother, and change maker is great." BCITO applauds Hannah's courage and environmental recovery efforts.
If you want to make a difference in your world, a great place to start is in your community. Check out why sustainable business makes for better business.
More News
We have put in place a vaccination policy and process that allows us to protect everyone and meets the requirements of the Covid-19 Protection Framework (traffic light system).
New Zealand Master Joiners Otago Chapter, BCITO and the National Kitchen and Bathroom Association have been holding a graduation ceremony for Joinery and Kitchen Design apprentices for ten years.