Equity can be itchy-scratchy
but life is good and business is better.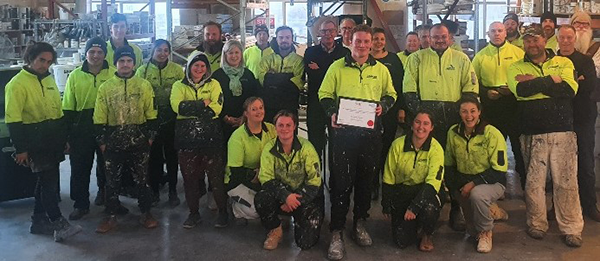 Kiwi business owners often get stuck working in their companies rather than on them. It's a sign that business is going well, which is great! But it does mean that the company only gets attention when things are going wrong rather than considering - how could I do things better to grow my business?
Trying new things and making changes can feel uncomfortable and give us that itchy-scratchy feeling even if it is best for business.
Brad Sandri of Ranger Special Coatings isn't afraid of mixing it up if it means life is good and business is better. Brad has decided to adopt a good old fashioned approach to change, he says, "We used to call it a chin wag. Investing time to have a genuine, safe conversation with every team member has put a spotlight on talent, highlighted gaps, and brought opportunities which now points to a unified team."
Brad shared how he goes about developing his team, "We spend time identifying our peoples' skills and identifying our future leaders. This was done with no thought to gender or age but on talent and fit within our business. We identified some team members who have been offered positions and have thrived."
Understanding what leadership looks like has been critical for Brad. He says, "Some of the skills identified have allowed us to build a very effective senior/middle management, and site leader teams who work very well together. We have second-year female apprentices with impressive organisational skillsets who are leading areas of our business. If we had taken a conventional approach, we would not have identified these people."
While not intentional, taking a skills-based approach has led to increased diversity in Brad's business. "Our management and site leaders are split almost 50/50 male-female and aged between 20 to 62 years. This gives vast scope for input, ideas and allows us to get very different perspectives when running our trade teams," says Brad.
Brad has worked hard to ensure that all people are valued in the business, adopting a same voice, fully inclusive culture. This allows all staff to have their input and be involved in the operations. Brad says listening to all perspectives and working through several ideas from across the whole team has led to exciting initiatives efficiencies across all of their trades.
Training is an integral part of life at Ranger Special Coatings. Recently they've adopted a different approach to training.
"Knowing we have a gap in tradespeople, we worked with our older staff and other industry leaders to put our own structured learning processes in place internally. This helps us get a huge amount of knowledge passed on from our senior team, allows us to build quality and consistency for our brand, and creates a real 'team' feel where we are all helping each other as we work towards our goals. We have noticed a huge change in staff engagement, team communication, and culture from taking this approach. With the generation gaps across our teams, we have very different perspectives and learning styles. The older team members on the tools have the 'get in and get it done' work style, whereas we find the younger team members are more inclined to look at the work and ask questions, sometimes almost challenging why it is being done in a specific way. This complete contrast in generational work styles for teams doing the same work on the tools can be challenging," says Brad.
Having relationships with many Resin business owners, we wondered how Brad had overcome the barriers and obstacles to achieving gender and age equality and whether the benefit was worth it.
Happy to share the realities, Brad says, "The main barrier we identified, to a point, was 'change' and in a male-dominated environment, we've had issues with acceptance of our female team members on sites with them not having a say or feeling valued. Some of the conditions of the sites were also very average in regards to amenities and services. However, through a promise, hard work, and dedication, we have overcome all these issues, and now the large majority of our sites are very acceptable and accommodating for all our team members."
Brad says the benefits haven't stopped just with the women on site. Everyone is enjoying the improvements, "We noticed a notable reduction in rework. General site organisation is a lot clearer and cleaner. With a team of mixed members (age, gender, and personalities), we are more adaptable on sites and to the clients' needs, enabling us to pivot to suit what needs to be done."
Given Brads' track record of having an inclusive culture, we asked what the guys in the team thought of their fellow female workmates. He says, "Initially, the feedback was largely mute. As time went on, the older guys self-reflected and adjusted, seeing it as their responsibility to help train their female peers, take them under their wing, and stand tall, taking pride in having a mixed-gender and mixed-age team. We're quite unique in the Resin sector. The feedback now is very vocal and positive. A side effect of this change has our older male staff communicating better and often. The banter and support within the business are very positive and gratifying."
Knowing Ranger Special Coatings operates a Painting and Resin business, our assumption was team members would transition from one business to the next. And if logic prevailed, that would be from Painting to Resin. We were wrong!
Brad shared, "Some of our female staff have had some painting or trade experience, but primarily, they come in with no experience."
Five years ago, the average age of the Ranger team was 47-years, with one apprentice and one woman on the tools. Now, 12 apprentices are enrolled into a formal qualification and are at varying stages of completion. The majority of these are younger staff, but two are adult apprentices. The average team member's age is now 35 years, and the female to male ratio is one female to 2.5 male tradespeople, 8 women to 20 men.
Brad left us with some advice for fellow Resin business owners, "Employ on skill and job needs rather than gender, and I think many employers could be very surprised. The industry needs more qualified staff, and by not maximising or giving opportunities to both genders, we miss out on a large pool of potential workers."
You can hear Brad's team's laughter and light banter as they arrive for the morning team check-in and again as they sum up the end of the day's achievements during a 5-minute zoom. Gender equity means life is good, but business is better at Ranger Specialist Coatings!
More News
We have put in place a vaccination policy and process that allows us to protect everyone and meets the requirements of the Covid-19 Protection Framework (traffic light system).
New Zealand Master Joiners Otago Chapter, BCITO and the National Kitchen and Bathroom Association have been holding a graduation ceremony for Joinery and Kitchen Design apprentices for ten years.