Ernie Jelinek 2020 award winner Oliver Wooles
Ernie Jelinek was an immigrant from Austria who arrived in NZ in 1957. He had a love for furniture making and started his career as a cabinetmaker in Nelson.
Ernie spent time in Christchurch and then Auckland, where he established a company called Bestwood. Bestwood was later acquired by Carter Holt Harvey, who, to this day, manufacture the beautiful wood panelling for which Ernie was renowned. After a long and gratifying career, Ernie's passion fell on inspiring future apprentices motivating him to donate the Ernie Jelinek Trophy for most promising apprentices.
Traditionally, this prestigious award would be presented on stage at the NZ Master Joiners Gala awards event. This year we paid homage to Ernie and took the presentation of this award back to the heart of where it all began the joiners' workbench - where the magic happens.
The 2020 recipient of the Ernie Jelinek Trophy is Oliver Wooles of Kitchen Inspirations, Auckland, judged by Karl Clemm. Like Ernie & Oliver, Karl is an industry award winner and pioneer after 27 successful years in furniture making, manufacturing and shop fit-outs.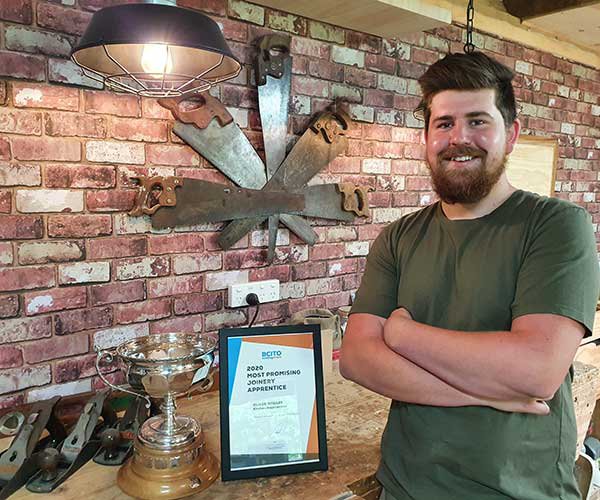 For Oliver, a career working with timber was always on the cards. At school, Furniture Making was his favourite subject. He achieved first in class for Furniture Making and was the recipient of Auckland Grammar Schools Shirley Wilson Memorial Prize for Diligence and Effort.
In Oliver's final year at high school, he spent every school holiday working at Rose & Heather furniture makers. He was about to start his apprenticeship with them, but sadly they relocated. Not to be deterred, this introduction had validated his career of choice, thoroughly enjoying working with a team, and having the opportunity to work on solid Kauri furniture.
On leaving school, it was a natural progression for him to move into a creative environment.
Growing up in a practical home, his father Andrew encouraged Ollie to give things a try. He built his workshop in his spare time and set up his business "OWL" – a proud and momentous moment for any 18-year-old. He says, "My workshop is my pride and joy where I do woodturning & complete commission pieces for customers. Taking the opportunities you are given with vigour, commitment, and appetite is vital in becoming a successful craftsman and an asset to me and any employer. Starting my own small business while working full time has been challenging, but this has made me grow and strive as an individual, doing accounts, marketing, and customer relations."
In 2019 Ollie secured a job and the prospect to complete an Apprenticeship as a Cabinet Maker at Kitchen Inspirations with Rebecca and Justin Berry. This year he completed his apprenticeship, becoming a qualified Cabinet Maker. He says, "Receiving the Ernie Jelinek Cup is very special. Being presented with such an esteemed award is a fantastic end to the year and my apprenticeship.
"My parents are incredibly proud of me, and to be nominated then win this award, and see me in a thriving industry where my passion lies makes them happy. I would always wish to work in a creative, practical environment. My industry is such a rewarding industry to be in.
"To anyone considering joinery undertaking, an apprenticeship has allowed me to have a good work and life balance, allowing me to commit to my hobby too, working with timber. I work in a creative team that delivers custom made cabinetry to customers. The benefits of being an apprentice are to 'earn while you learn' and at the end of the course receive a qualification.
We congratulate Oliver Wooles, thank his employers Rebecca and Justin Berry, foreman Martin Foote, Training Advisor Jack Griffith, Wintec tutor Bruce Delaney for all having a hand in training and guiding him through his apprenticeship. Most of all, we thank Ollie's parents for believing in their son's dream and encouraging his success.
More News
The Building and Construction Industry Training Organisation (BCITO) has set a record of 16,000 apprentices in training.
Have you heard? – the NAWIC Excellence awards 2021 are happening and open for nominations!