Ethan Green, solid plasterer
Ethan Green is seven months into his solid plastering apprenticeship with employer Scott McArtney of S J McArtney Ltd. He is one of only 10 apprentices currently training with BCITO in this specialist trade.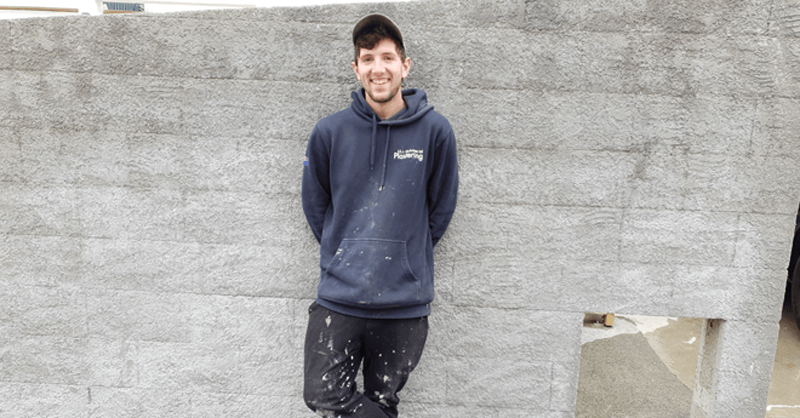 Client preference plays a big role in how Solid Plasterer's carry out their work on-site as it all depends on the required surface finish. 
Ethan's main jobs at present include preparing the surface for plastering by scratching off contamination or water blasting and mixing the plaster. As he becomes confident with this he will progress to applying slush coats to act as a key for the topcoats. Once Ethan has mastered this he will begin to apply more critical plaster topcoats and learn the techniques of 'ruling off' - levelling the surface - and applying textures.
Ethan says he is definitely stronger than when he first started due to the lifting and mixing of bags of product and the physical nature of the preparation work. He is enjoying learning about plastering and has a new appreciation for all the (plastered) buildings in Wellington. Eventually Ethan will begin to make his own templates and speciality tools such as straight edges and floats and will learn the appropriate types of timber and materials to make them from.
The company also creates moulds for external decorative work and internal fibrous cornice (which may include flowers). Most plasterers do not do this type of work anymore but Ethan is enjoying the creativity involved in running templates on a table and in situ. He encourages anyone who is considering solid plastering as a trade to "Give it a go!"
More News
The Government has announced a $12.1 billion COVID-19 Economic Response Package for small to medium businesses and employees during this period of uncertainly.
The health and wellbeing of our industry's employers, apprentices, and our people are of paramount importance to us.