A family affair
For Kevin Caird, owner-operator of 3Genbuilders Ltd in Taupo, construction has played a massive part in his life for over 40 years.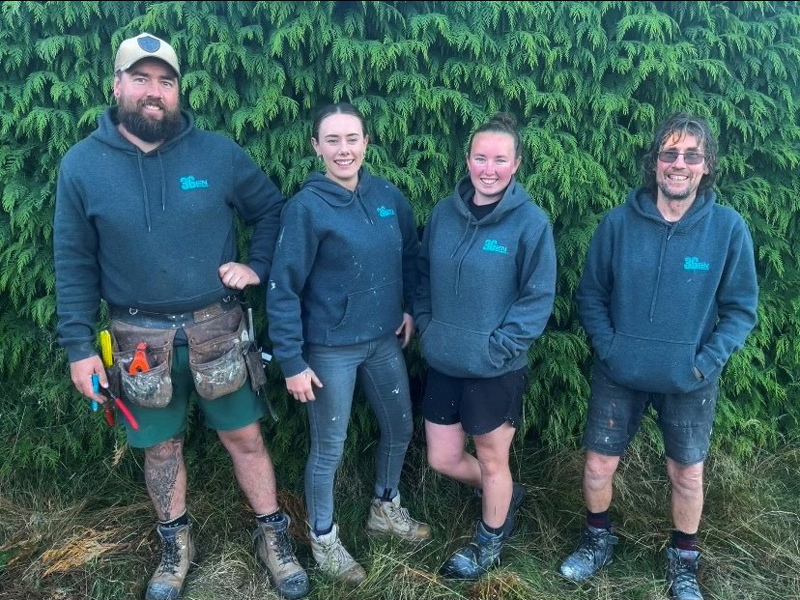 (left to right) Darryn, Bethany, Hannah and Kevin Caird
During those 40 years, there has been one significant mainstay, which is his family's involvement. "After a brief couple of years working as a chef when I was 18, I moved on to building and started my apprenticeship in 1980 working for my father, John Caird. Our work varied, but for the most part, I spent six years building. I then worked for my older brother in the early to mid-90s, where I did silviculture work before returning to building in 1996. I haven't looked back since," says Kevin.
Carrying on with the family affair, Kevin took his son Darryn on to work with him in 2006 and got him straight into his apprenticeship. "Darryn went from being at school and not enjoying it at all to starting building, and he was like a sponge soaking up all this new information. He just thrived and worked exceptionally well. Darryn then left in 2015 and went to Wellington for about three years, where he was running a crew," says Kevin. Darryn would return to Taupo in 2019 where he again linked up with his father and went into partnership in the business. "It was Darryn who came up with the name of the company, 3Genbuilders Ltd, for the three generations involved," says Kevin.
To complete the real family story at 3Genbuilders Ltd, Kevin currently has his two daughters, Hannah and Bethany (Bee), completing their carpentry apprenticeships. Kevin says both girls are fantastic workers and are both very capable tradeswomen who have shown their ability across building, painting, waterproofing and tiling. "It's been an absolute blessing for me spending this time working with my kids. I learn as much, if not more, from them. My wife Pam and I are so proud of what they have achieved so far, learning great lifetime skills," he says.
The construction industry is desperately short of labour, and getting more women on the tools would undoubtedly be a big step in the right direction. Hannah and Bee have shown Kevin several benefits of having them working alongside him every day. "Having the girls on the job really inspires others and puts customers at real ease. The girls hold their own. They work just as well as most guys, just ask any sub-trade who works around them. They drive the scissor lift, do scaffolding, work at heights with harnesses and back a trailer down our 60-metre-long, 3-metre-wide curved driveway as well as anyone," says Kevin.
It's clear that Kevin and his family see real benefits in apprenticeship training, so it's no surprise to hear that they are continuing to grow their business. "I have trained up or part-trained seven apprentices over the years. Darryn and I just signed up another apprentice last month. It's great to have an input into people's work and life skills. Get them working with you, and ask them to help you solve those questions like 'what's the best method, most practical, most affordable and high-quality way of doing certain jobs?' Your workmates can have better ideas than you, and you just have to be open to listen and receive their input," says Kevin.
More News
Jess Nielsen stands out as a trailblazer after placing third at the 20th Annual Registered Master Builders Apprentice of the Year competition; the first woman to place and the second ever to reach the national competition.
You may be aware of the Government's intention to disestablish Te Pūkenga | New Zealand Institute of Skills and Technology.