A family business playing to its strengths
Recently we caught up with sisters Gracey and Holly from Ferndale Furniture, Wellington.  The sisters share their story of growing up in a home of entrepreneurs and independent thinkers to a family business playing to its strengths.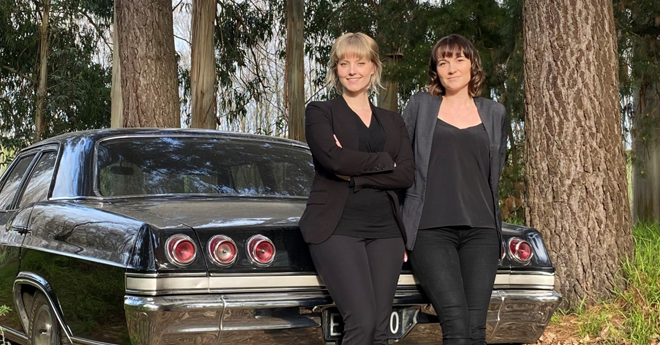 We asked Gracey and Holly how they got involved in the industry, and if any one person had given them that little nudge of encouragement?
Gracey shared, "Ferndale Furniture is our family business when a position as a Project Manager came up, it was my Dad who convinced me I would be good in the role. He explained how prior skills and knowledge learned could be transitioned into the role. Mostly working well under pressure, multitasking, and being a good communicator. It turns out he was right, and I love my job."
Holly said, "Dad was the one who sparked my interest in design. From as young as four years old, we would sketch and build toys and gadgets together out of shoe boxes, bottles, etc. From age 5, I remember telling people I wanted to be an Industrial Designer. The idea that I could create things for a career sounded pretty good to me.
"I took the graphic design, woodwork, and art classes at school. I studied Industrial Design at University, and throughout this time, Mum and Dad were incredibly supportive. Often allowing me to take over the dining table with soldering irons, super glue, and sanding paper for days at a time. I graduated with a Bachelor of Design Innovation majoring in Industrial Design and moved to Melbourne, where I designed high-end custom wardrobes and joinery and retail fit-outs.
"After three years of great experience, Dad called asking if I'd design a new range of residential furniture for Ferndale. This type of work is an Industrial Designer's dream; two weeks later, I was on a plane and got to work." 
Curious to know I asked Gracey or Holly if they'd spent time on the workshop floor, had a go at creating something special, and if yes, what?
When Gracey was 19, she worked on the factory floor, "mostly as a machinist on the edge-bander. A lot of the staff I worked with then are still here today. Lots of things have changed since then, but there's still a level of familiarity and camaraderie that has helped me move into my role now."
Other than sweeping floors during school holidays around the age of 13, Holly hadn't had the chance to work in the workshop. "Recently, I've had the chance to design the joinery for a house that a family member is renovating. It's my first experience designing the joinery for an entire home, and it's been incredibly rewarding, especially since things have been getting installed over the last few weeks, and I can see the place coming together."
Lifting the veil, I asked the sisters what it is like working in a family-owned business.
When Gracey first started working for her Dad a year ago, Holly had been working at Ferndale for one year. "My desk was beside Holly's so that she could answer questions as I familiarised myself with the technical aspects of the role, plus the jargon - there is a lot! Being a family business we have always been kept in the know with exciting projects and what Dad's plans are for the future at Ferndale, I don't know if that included us both working there! It's quickly become our new normal, and we all support each other, even in our very different roles. 
Holly says, "We all focus on different aspects of the business, so often it's not until we sit down for a family dinner and ask each other about our days that we truly catch up. 
"The main difference is I feel like I have an incredible support team behind me at work and can always go to Dad or Gracey to ask questions and get help without hesitation. 
"The only difficult part of working in a family business would be the pressure I put on myself never to make mistakes or let Dad down. But that's very unrealistic and something I put on myself entirely! In reality, my Dad is probably the most understanding and supportive boss I've ever had."
Why Project Management and why Design?
Gracey says, "I love the diversity in Project Management. I could be in the office on a construction site or the factory floor. Each project teaches me something new about design or materials. I also enjoy a very fast-paced work environment. Working to constantly changing deadlines and designs."
Holly's always had a knack for visualising in 3 dimensions – "I love finding solutions to problems or improving the way something works, so design just came naturally. The biggest revelation for me happened at University when I started to work with 3D printers and CNC machinery (instead of cardboard and scissors).  I really could make anything. I didn't feel like I had to rely on someone else to fix something, or throw it out." 

What advice do you have for other women in construction?
Gracey, "If you say you are going to do something, do it - be as good as your word. The construction industry is full of people with valuable knowledge and experience, and the best thing you can do is ask for help when you need it. I have come across so many people who have been helpful and supportive. It's a great industry to be involved in."
Holly, "My advice would be - get out and give it a go. The number of women in construction is growing every year as it becomes the new normal. If this is an industry you feel passionate about, there really shouldn't be anything else that matters."
If you're wanting to discuss career pathways or ask specific questions about the industry before getting involved, we would always be happy to chat.  Networks such as NAWIC are an excellent resource for connecting and supporting women who already are or want to get involved in the construction industry."
Thank you, Gracey, Holly, and Ferndale Furniture for sharing your story with BCITO.   Also, we congratulate you Holly on the full showroom of beautiful designs and can't wait for the launch of your new range, Room99.
More News
The Building and Construction Industry Training Organisation (BCITO) has set a record of 16,000 apprentices in training.
Have you heard? – the NAWIC Excellence awards 2021 are happening and open for nominations!