Female Finalists Take Centre Stage With Master Painters
The Master Painters Apprentice of the Year, in association with Resene Paints, recognises all-round excellence in decorating. The competition is split across four regions – Northern Region, Lower North Island, Upper and Lower South – with the winners of each of them invited to compete for the top title.
This year's competition is notable for not only the high levels of craftmanship, but for the fact that (for the first time in the competition's history) all four finalists are women.
For BCITO-Te Pūkenga, it is great to see the sector changing for the better. Positive outcomes come about when people work together – but that can be difficult if everyone approaches jobs in their own way. The experiences of all four finalists are a credit to their employers, who have nurtured their respective talents.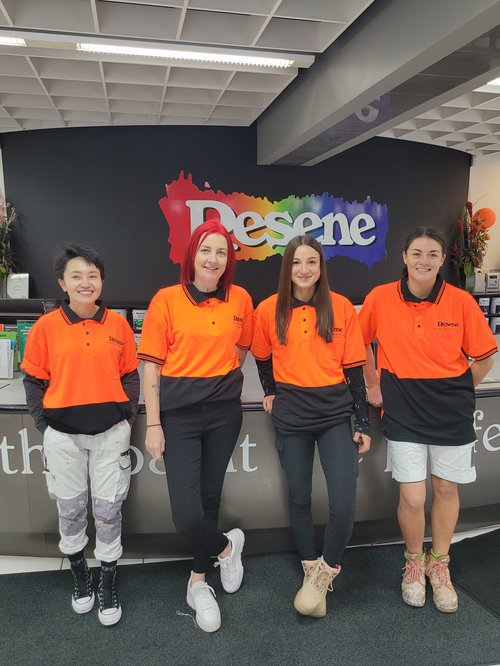 Northern Region winner, Tania Leveridge from PMD Painting in Hamilton, entered the competition as a challenge after hearing about it from a workmate. After spending 15 years as a hairdresser, Tania thinks it's cool to have got this far.
"I took up painting and decorating because I wanted to try something different. I'm also someone who likes a challenge. So, when I heard about the competition I thought, why not? I'm glad that I did because it has boosted my confidence. My advice to people that might be sitting on the fence is to "give it a go!"
Sally Gaudin – the Upper South winner – works at Rangers Ltd in Timaru and took up painting and decorating after a career in hospitality. With a father who's a painter, Sally started her diploma with a good understanding of what to expect.
"My Dad was a painter and, growing up, I always enjoyed helping him out in the winter. But I never thought it was a career option. My Dad was also from a generation where you just didn't have women doing the job. That's all changed now and there's a lot more awareness of the possibilities - you see that in the large numbers of females coming through the gateway programmes."
Like Tania and Sally, the winner of Lower North Island, Ellie Moyer from Total Decorating in Nelson, started out working in a completely different field – previously working on a hop farm and in hospitality. Ellie is grateful for the support she got from her employer, who was also the catalyst for her deciding to give the competition a go.
"My boss was super supportive and convinced me to enter. While I had heard about the competition and thought about entering, I wasn't entirely sure that I would – but I'm happy I did. Looking at where I am now, I've really enjoyed the block courses. There's something about asking questions, and having them answered then and there, that I really like."
Trinh Nguyen from MR Decorating in Queenstown was the Lower South winner and is proud of the recognition – not just for herself, but for women out there who might be pondering a similar move. Trinh, who grew up in Vietnam, is glowing about the competition and the confidence it has given her - because where she is from, women don't always get the same opportunities.
"Coming from Vietnam, where I was a Director's Assistant at an IT company, my reputation and work ethic has always been important to me.
"Women should be proud of the value they bring. This is not to say that women or men are better. Having four women finalists shows the value of men and women working together – each adds something different," says Trinh.
With the practical part of the competition complete, the finalists now move on to the Master Painters Conference in Christchurch, where the overall Apprentice of the Year will be announced. Sponsored by Resene, all four finalists (and their three chosen support people) get their travel and accommodation costs covered.
Aotearoa New Zealand needs more people from all backgrounds to consider a career in the trades. BCITO has the resources and support systems in place to ensure everyone has an equal shot at success. To learn more, head to https://bcito.org.nz/
More News
Wood Solutions have been carving out the way for sustainable practices and diversifying their workforce. They are minimising and repurposing waste and create a healthier and more welcoming workplace where 1/4 of their workshop are female.
Jenna Toailoa and her husband Manu's RedRock Plastering has been making a name for themselves with their high quality work all the while taking on apprentices, showing it can be done!