First female building apprentice
flying the flag for women in the trades
A Whitianga teenager is flying the flag for women in the trades by becoming the first female student from her school to land an apprenticeship setting her on track to achieve her dream of becoming a qualified builder.
Abbey Mills' commitment, drive and reliability were ultimately what opened the door on her chosen career path and, so far, her new boss is super impressed. "She arrives on time and is a hard worker," says Brett Goodger who with wife, Laureen, owns LBG Builders. "She's keen to learn and picks things up very quickly. She initially turned up with a packed lunch, but soon turned into a real tradie heading with me to the bakery first thing in the morning.
The company used to work right across New Zealand, but has been based in Whitianga for the past four years after Brett and Laureen fell in the love with the area over the course of an ambitious two-year build for a client.
Over the years, Brett has had 12 apprentices, mostly adults, but with some major projects on the horizon, he decided to get in touch with Mercury Bay Area School to ask if they had a student who might be suitable and interested in a career in the building industry.
As coordinator of the school's Gateway Programme, the usual path to work placement for students, Marie Relph says her role is to match students with suitable opportunities where they are likely to thrive and succeed. "Abbey wasn't a Gateway student, but whenever MBAS gets an enquiry for apprentices, I will talk to the teachers to see who would be a good fit," she says. "The school values our relationship with the community and would like employers to know that the success of their businesses, and their wellbeing, is important to the school, as well as the success and wellbeing of the students we might recommend."
When asked for his thoughts as to who might be able to work well with Brett and Laureen, John Sedcole, MBAS Head of technology and woodwork teacher, had no hesitation in putting Abbey forward. He says part of his job is to know what it is builders and other trades expect from the apprentices they employ and to make sure the students they recommend will be able to fulfil those needs. "We want our student to be of value from day one," he says.
With that in mind, John was pretty frank with Brett, telling him he would be an "idiot" if he didn't employ Abbey. His confidence was not misplaced. In addition to her skills, attitude and capacity to learn, Brett highlights how tidy Abbey is in her work, something that is vital for his company which specializes in architecturally designed properties. "It's really important as the homes we build are people's dream homes," he says.
Even the customers have taken note. On the current renovation project which Abbey has been helping Brett with since she started with the company in November, the client emailed Brett complimenting Abbey's manner and work ethic.
For Abbey, the opportunity was both unexpected and hugely exciting. Her parents, Vanessa and Jeff, were part of the process from the outset, Vanessa accompanying her daughter to an initial interview and then all three of them having the opportunity to essentially interview Brett to fully understand his expectations and what becoming an apprentice would mean for Abbey.
Also part of the team effort was Jo Vujnovich from the Building and Construction Industry Training Organisation which connects apprentices with employers and assigns them a training advisor to monitor progress and offer support throughout the process. "I'm very excited about Abbey," says Jo. "Wouldn't it be great if she becomes the New Zealand Apprentice of the Year in the not too distant future?" It's something Brett wouldn't rule out, "I honestly cannot see any reason why not," he says.
Apprentice of the Year is a pretty lofty ambition, but setting high standards for herself is all in a day's work for Abbey. However, she says her immediate goal is to complete her apprenticeship and become a licensed building practitioner which will take at least four years. She's about to start the bookwork and theory elements which she will work through alongside the practical experience and training she gets with Brett.
Whether or not Abbey can set a trend for more young women on the Coromandel remains to be seen. But based on what he's seen so far, Brett says it could only be good for the industry. "Hopefully Abbey will lead the way for sub-trades to consider employing female apprentices as well," he says.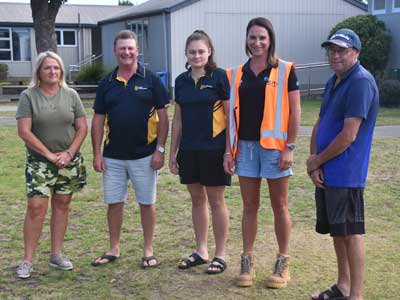 Pictured: Abbey Mills (in the centre), the first Mercury Bay Area School student to be offered a building apprenticeship with those who helped her into her new trade. From the left - Marie Relph (MBAS Gateway coordinator), Brett Goodger (owner of LBG Builders), Jo Vujnovich (Building and Construction Industry Training Organisation business development advisor) and John Sedcole (MBAS head of technology and woodwork teacher).
Republished with the kind permission of The Mercury Bay Informer
More News
How does Faulkner Construction achieve consistently high standards across a large and growing team of builders? We asked their latest Gold Medal Winners to explain.
Marek Guzinski at The Tiling Plan is excited to be passing on to his knowledge the next generation of tilers.