First micro-credential big step forward for construction
A Whitianga-based kitchen installer has become the first New Zealander to achieve a micro-credential. 
The shorter bite-sized learning achievements, which the Building Construction Industry Training Organisation (BCITO) refers to as Managed Traineeships, became a recognised part of New Zealand's qualifications system in August.

BCITO's Managed Traineeship in Kitchen Installation was the first micro-credential to be registered on the NZQA Framework. And, David Hall, a kitchen installer at Mastercraft Kitchens Whitianga, who participated in BCITO's market-testing, has become the first person to achieve one.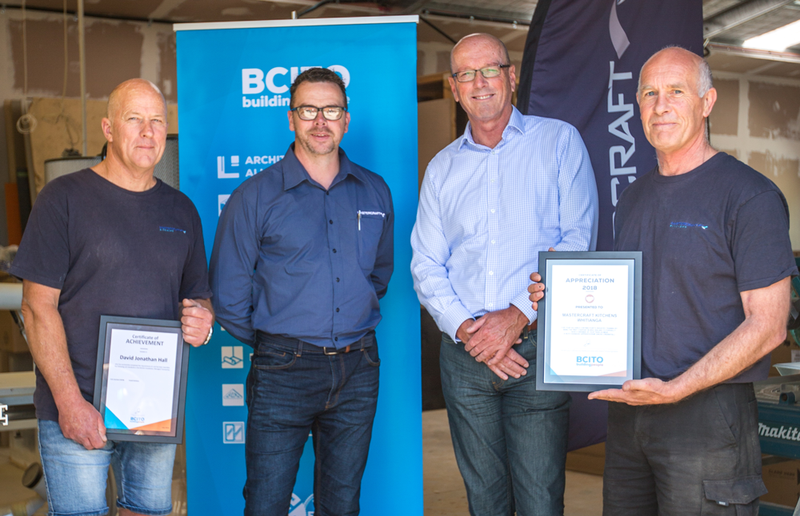 Left to right: David Hall, Kitchen Installer; Dave Wilson National Operations Manager, Mastercraft; Warwick Quinn, CE, BCITO; Tony Wilson, owner Mastercraft Kitchens Whitianga.
Hall says it's great to be formally recognised for his skills. "The construction sector is becoming more specialised and these qualifications reflect the way the world is going. I'm in my 50's and already have experience in both carpentry and civil engineering. This course took into account my previous experience while helping me refine the relevant specialist skills needed in my new career." 

Tony Wilson, Director at Mastercraft Kitchens Whitianga is pleased to have the opportunity to provide more specialised training. "David has been working for us for two years now. He was able to draw on his past experiences and further hone his skills for our particular craft."

BCITO Chief Executive Warwick Quinn made a presentation to congratulate the team at Mastercraft Kitchens Whitianga for coming on board and pioneering this new type of learning.

"These smaller, bite-sized qualifications are responding to the sectors changing demands. We're working hard to make training more attractive and relevant and these courses are a part of that. The success of this managed traineeship means we're now ready to start developing more specialised courses and rolling them out across the country.

"Employment forecasts for the construction sector, which BCITO covers, suggest there will be more than 80,000 new and replacement job openings in the next five years. We need more skilled workers. Managed Traineeships equip learners with specific skills for the niche jobs our industry requires," says Quinn.

Minister of Education, Hon Chris Hipkins, announced that qualifications smaller than the traditional limit of 40 credits would be recognised in August. He says BCITO's Managed Traineeship in Kitchen Installation is an excellent example of how these courses can recognise specific skills.

"It's great to see people getting involved in this new flexible and innovative approach to learning. The Government is committed to creating life-long learning opportunities and this is a great example of how specialised packages of learning can help workers gain formal recognition for their skills, as they progress in their careers," says Hipkins. 

For photos of the event or to arrange an interview please contact: 
Lucy Hall
Acumen Republic for BCITO
04 494 5135 / 0210 762 149
More News
The Building and Construction Industry Training Organisation (BCITO) has set a record of 16,000 apprentices in training.
Have you heard? – the NAWIC Excellence awards 2021 are happening and open for nominations!