Flooring business owner teaches young guns about life
Having been in the industry for 11 years, Liam Hayes still feels that the best decision he ever made was starting his own business, Hayes Carpet Laying in the Hawkes Bay.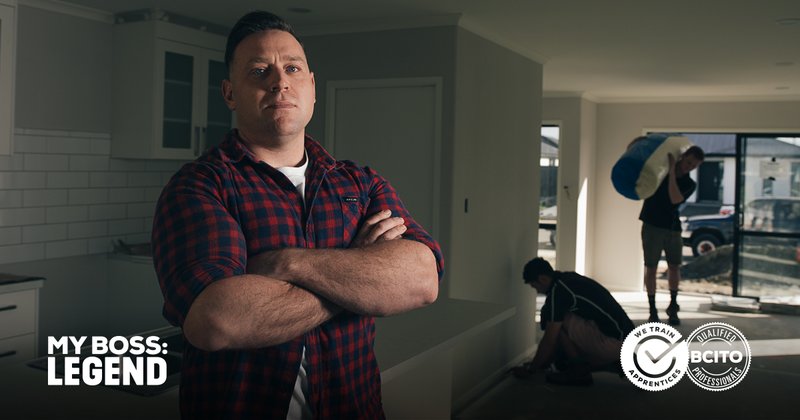 "Being in a position to produce a quality tradesperson is hugely satisfying.  I was an apprentice once too, so I know having an apprentice qualify is truly the highlight at the end of a massive amount of work and learning by both the apprentice and trainer," says Liam.
Liam takes time with all members of his team to make sure they are comfortable with performing every task they undertake. Liam says, "As a leader, you have to have reasonable expectations. I need to make sure the team are upholding industry standards and keeping workmanship at a high level. What I'm teaching also needs to be pitched at the right level for them to understand. I have to provide good boundaries, and clear instructions or the team will never be able to succeed. One way I do this is by leading by example, working alongside the team to show them hands-on and explain what needs to be done.
"Once your team become competent you can then step back and offer them the freedom to run their own day. I'm not just training staff, I am teaching my team life skills, both in and out of the workplace. I want to see all of my young guys buy their first home.
"You also need to take the time to celebrate achievements, including giving praise when a job is done well. In this line of work, your staff work extremely hard to get the job done. When your team are proud of what they have achieved, they are more willing to work hard, and the outcome is always better. Don't be afraid to let them know how proud you are.
"Celebrating an achievement doesn't have to be anything big, it can be as simple as drinks or a smoko shout or even a compliment on a job well done. It's all about treating your team with respect. We are all there to complete the same job and achieve great results together. 
"One day some of my team will have the chance to own their own businesses, and it's important that they remember their time as an apprentice as something worthwhile so that they will continue to train the next generation.

Legend 'wise words'
an effective leader needs to lead from the front, give good boundaries, clear instructions and have reasonable expectations.
a commitment to industry training means upholding the industry's standards.
best business decision I made was starting my own business.
life-long learning can only happen with humility and an open mind.
at the end of a tough week I can be found working on my car.
in 5 years I hope to have produced more award-winning tradespeople.
Liam Hayes, Hayes Carpet Laying
View Liam Hayes' story and more stories about other legendary bosses.
More News
NAWIC are delighted to have received a significant increase in entry numbers for their fifth annual Excellence Awards, this year in partnership with BCITO. Finalists have been announced today.
The Building and Construction Industry Training Organisation (BCITO) is pleased that the Government is moving quickly to establish the first construction Centre of Excellence (CoVE).