Flooring perfectionist scoops top prize
The largest get-together of flooring professionals this year, Flooring Apprentice of the Year 2019, was recently held in Christchurch where industry peers applauded top-performing apprentices.


This year's event was particularly special for Zac Lange, recently qualified flooring installer at Feilding Flooring Xtra.  In 2017, in the first year of his apprenticeship, Zac took out the Stage 1 Flooring Apprentice of the Year title.  He's kept up the fantastic work and this year was awarded Stage 3 Apprentice of the Year and Supreme Flooring Apprentice of the Year.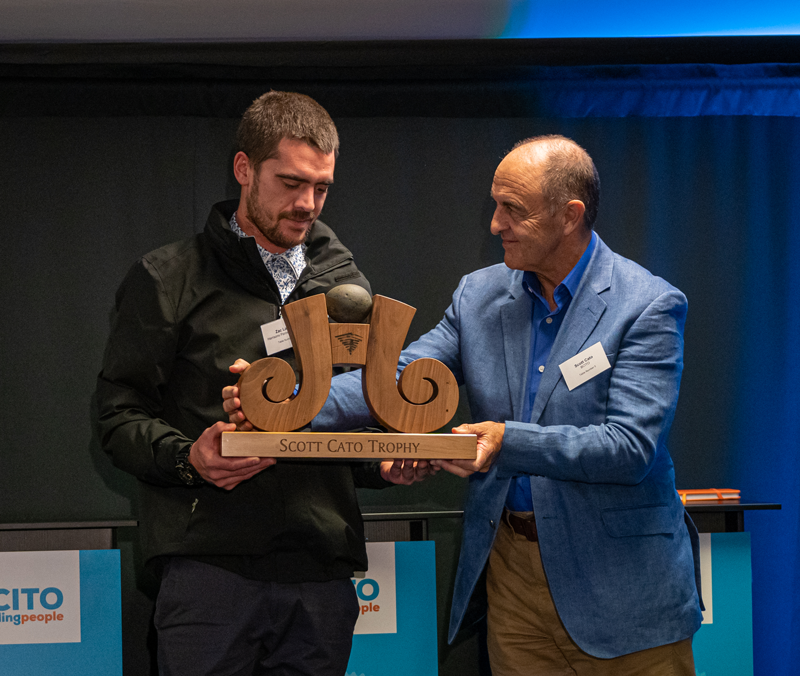 Zac Lange (left) being presented with the Scott Cato Trophy Supreme Award from Scott Cato.
Now with three prestigious titles under his belt, Zac is growing a strong reputation as one of the best in the business. Mel and Murray Henderson, owners of Feilding Flooring Xtra, couldn't be prouder of Zac's achievements.   Mel says, "Zac is a very worthy recipient of these awards. His workmanship is of the highest quality, and he's able to work through issues as they arise which, in flooring, can be daily. Nothing is ever a problem, and he always goes the extra mile for our business.  Our customers all speak very highly of him, and we love having him as part of our team. His hard work, attention to detail and eagerness to learn from others has seen him excel in this field; I have no doubt he is going to make an excellent contractor when he decides to take that route, which I'm sure will be in the near future."
Zac says he started his apprenticeship in the first week on the job after moving to Feilding, originally employed and trained at MB Flooring.  Previously from Napier, where he worked as a digger driver, he was fortunate enough to start his flooring career through family connections.   His father, Laurence, has been in the flooring industry for around 20 years and put the word out through the network to help Zac get a foot in the door.  Zac says, "It's quite a cool feeling knowing that I'm following along in my father's trade.  I figured that if he can do it well, then I could also enjoy it and be successful.
"What I enjoy most about flooring is that every day in my work-week is completely different from the next and different challenges present themselves all the time. Testing myself on different types of jobs is very rewarding.  For any career seeker, the Flooring industry is a good bet; I say give it a go, and it'll grow on you.  There's plenty of opportunities out there right now for people with a good work ethic. 
"I knew before the event that I was getting the Stage 3 Apprentice Award, but The Supreme Award was a big surprise as that was only announced on the night.  I was a bit shocked and dumb-founded but really happy all at the same time!  There's a lot of talent out there, and I am super-lucky to have been chosen.  Not always feeling at ease being in the spotlight, going up on stage was pretty scary for me as well as exciting.
"My partner and my mum attended the awards with me, and it was special to have family there as well as my employer.  Mum was so happy she cried, and my partner kept saying to me, 'I bet you'll win Supreme!' – I'm continuously thankful for her awesome faith in me.
"The best part of my job is seeing the finished product that I've created — just knowing that I can do that all on my own now is so rewarding.  There's not much fun in uplifting old floor coverings, but every job starts with good floor prep, and you have to understand that to be able to get a good finish.  There's one day on the job I'll never forget; I'll only ever glue myself into the corner of a huge carpet tile job once and never again!
"It just goes to show that anything is possible if you put your mind to it and I really value the skill set I have now.  These awards will help me develop my career in flooring further, and I'm quite humbled by this recognition of the great training I've received."

2019 Award winners
Stage 1 Apprentice of the Year Chelsea Pokaia, Floortek
Stage 2 Apprentice of the Year Clintyn Thompson, SW & T Williams Flooring
Stage 3 Apprentice of the Year and
  Supreme Apprentice of the Year Zac Lange, Feilding Flooring Xtra
Villars Award Dylan Meehan, Natural Stone Grinders
Top Flooring Planning & Design student Zoey Christensen, Carpet Court Queenstown
Congratulations to all, your talents are very valuable, and we wish you the best for your futures in flooring.

Sponsors
Many thanks to our sponsors who helped make this event possible:
Carr Group
Dunlop Flooring
FloorNZ Allied Trades Institute
Gilt Edge Industries Limited
Handley Industries
Karndean Design Flooring
Look Floors
Robert Malcolm
Sleepyhead
Techspan
More News
The Building and Construction Industry Training Organisation (BCITO) has set a record of 16,000 apprentices in training.
Have you heard? – the NAWIC Excellence awards 2021 are happening and open for nominations!