Frame & Truss's first lady of manufacturing
To date, all holders of the Frame & Truss Manufacturing qualification have been men. BCITO is pleased to see that we now have two women enrolled in the qualification.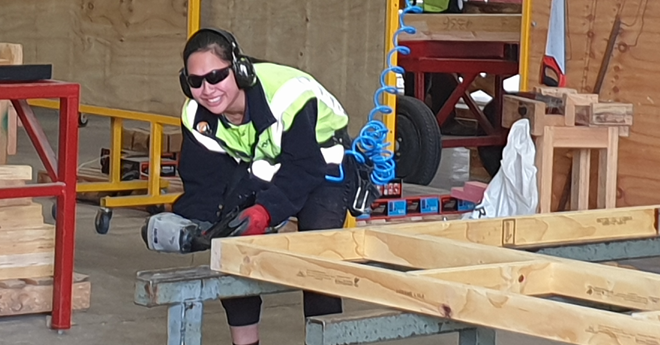 We are delighted to introduce the soon to be, first woman holder of the National Certificate in Frame & Truss Manufacture, Hinehou Ryland (Hine) from Tumu Frame & Truss in Hastings.
Industry Advocate for the Frame & Truss sector, Helen Hines-Randall, had the pleasure of sitting down with Hine to find out a little more about her.
What motivated you to work in the building industry?
"I started here at Tumu Frame & Truss doing the wrapping and strapping of the frames and trusses and the longer I was here the more I was interested in wanting to be a part of what was going on out in the framing shed. The Production Manager at the time, was very keen for me to give it a go. It is a male dominated industry and it is not the easiest job when it comes to heavy lifting. There is a lot to do and a lot to learn so no two days are ever the same. Tumu Frame & Truss employs approximately 40 people with 15 in the framing area and 7 on the truss floor.
"When I was at school, I spent all my time focusing on working in health and fitness. I got a job in that area but realized it wasn't what I wanted. It was then I realized the difference between a hobby and actually having a passion for something. I spent my whole school life working towards health and fitness so my biggest regret is being close-minded and just focusing on one thing!"
What motivates you to get up in the morning?
"My brother!  We both work for Tumu Frame & Truss and we're pretty competitive so when he found out that I was doing my apprenticeship, he went and signed up for an apprenticeship as well. There's always just a little bit of sibling rivalry between us."
What does a week look like for you?
"Busy!  Currently we work from 7.00am to 4.30pm, 5 days a week. First thing in the morning we all have to do our 15 minute warm-up exercises and stretches to prevent injuries from lifting. Then I carry out my pre-start checks before getting on with the framing. 
I have my resources that guide me on what I need to learn and Richard my Supervisor, he's the best at teaching me the right way to do things. The resources are good as they are broken down into sections rather than just one big book."
What do you do outside of work?
"I'm currently playing squash through works "U-Fit" course. The course is to motivate you to stay active outside of work, so we have a squash team here and play Thursday night's at the social club. We've also had a lawn bowls team.
Last year I participated in the 'Tough Guy – Tough Girl' Challenge which I did enjoy but they didn't mention running up this big hill and all the mud!"
What reaction did you get from your male colleagues when you started in manufacturing?
"I was really surprised at how open they are to having a woman working with them as it's such a male dominated profession. They were surprised but very encouraging. I think they are realising that workplaces are evolving and it's inevitable that there are going to be more women in the trade.
Being realistic, I won't be able to be 45 and doing this type of work. I've talked with an advisor who said eventually I should look at studying Business Management and then join the Management Team here. So they'll have a woman in management who at least knows how things are run. This would also hopefully make this profession more attractive to other women".
What has been your biggest accomplishment?
"Having the confidence to teach someone else because I learnt that being able to carry out certain tasks is one thing, but having the confidence to teach someone else, knowing that what they learn depends on you. The longer I've been here the more confidence I have gained. When I first started I wouldn't even use a nail gun.   
I've thought about how I respond to certain things and decided that I needed to be more adaptable. I'm not big on change but if I want to make self-improvements I have to make changes outside of work. I wasn't very physically strong when I started working here so I had to make time to go to the gym so I could actually lift the timber instead of relying on the guys to help me. I have to be more open-minded and set myself goals focusing on my self-improvements rather than on others."

What would you say to someone wanting to enter into frame & truss manufacturing?
"You have to be mentally ready, not just physically ready to do this work – you have to be able to multi-task along with being able to work with other people that have varying knowledge and skills to you. When I started here I thought everyone knew the same and that I could learn the same thing from different people. Everyone has different skill levels so you have to go to the right person to get the right knowledge and skills."
Hine's BCITO Training Advisor Craig Glentworth says, "She makes my job very easy and when I turn up for visits she is always well prepared, always completes her study and if she hasn't she'll give me a valid reason for it – she's a pleasure to work with."
We will be watching Hine's progress and look forward to Craig handing over her Certificate.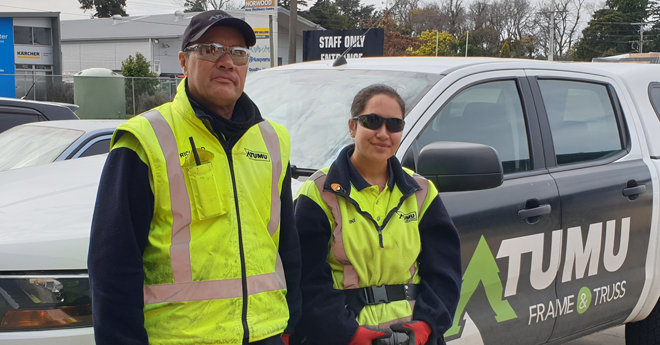 Hine Ryland with her supervisor Richard Otene.  
"We don't think of or treat Hine any differently than any other staff and there's no special treatment – she's one of the team," Richard Otene.
More News
The Building and Construction Industry Training Organisation (BCITO) has set a record of 16,000 apprentices in training.
Have you heard? – the NAWIC Excellence awards 2021 are happening and open for nominations!