Getting to know National Advisory Group members
Introducing FTMA Representative Phil Broadley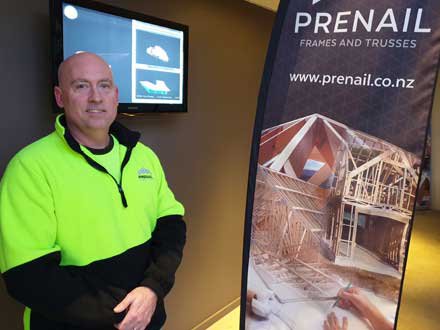 Phil is one of Wellington's most well-known figures in the frame & truss industry, having grown out of early opportunities and hard work. Growing up in the Hutt Valley, he left school and was fortuitous in getting a job with a great company that supported him with training in Architecture, completing the NZ Certificate in Architectural Drawing whilst performing tasks of drafting, quantity surveying, and project management. Upon completion of his study, he made a career shift into sales and project management with an entrepreneurial style manager who became one of Phil's early mentors who he has remained in contact with over the years.
Exposure to the frame & truss industry happened after Phil left his first job going to work for a construction industry supply chain company that trained him in sales and provided mentoring in business systems and processes. As part of the Project Manager portion of his role, he was tasked with helping a frame & truss sub-contractor to get their in-house systems upgraded and efficient so that their own clients would benefit from improved products and services from them. Because of his early exposure to ISO 9002 (Internationally recognized Quality Management Systems) and his efforts to implement them in the business he worked for, he was the right man for the job!  Through this exposure to frame & truss, and his technical and management expertise, the sub-contractor company then offered him a job to work for them. A short time later, Phil and his wife, Sharlene were offered the opportunity to buy the business Prenail Frames and Trusses Ltd. At that time the business had been operating under numerous guises since the early 1980s and remains one of the oldest frame & truss businesses in NZ. The business designs and manufactures frames & trusses for all types of projects and, during 20 years under Phil's capable management, they have carved a niche in providing their products and design capabilities for high quality, bespoke and architecturally designed residences.
Being on the Executive of the Frame & Truss Manufacturing Association, Phil is a key liaison between the Association and BCITO ensuring the Association has a voice in the review of qualifications, identifying training needs and future workforce development plans. Phil has an insight into the whole industry, not just his own business and he says, "There's little point in being a bystander when you know that you can collaborate with key industry influencers, to make change happen effectively. 
"I got involved with the BCITO National Advisory Group as a means of encouraging industry to train, to ensure people have the right skills and knowledge, and that they value themselves in a frame & truss profession. I get to meet and work with other fabricators from around NZ who share the same passion."
Phil says, "I absolutely love seeing young people come in here, train and when they move on, their great life's journey begins – it's so rewarding. We hear from many of them periodically and learn of their successes. Early on, I trained a young man fresh out of school, to be a Frame & Truss Detailer and he's now working for a large organisation in an Architectural LBP capacity with a team of direct reports nationally, and is doing absolutely amazing things!  Another promising star we trained in Frame & Truss Detailing worked for us for some years before his OE to Australia to work for a large frame & truss company. He became one of their Senior Detailers and got to travel around the country to their other manufacturing plants as a Specialist Advisor, still at a young age. Both have catapulted to successful careers from the incubator of training and support by myself and the team. Currently, we have a number of cadets at various stages and it's great to foster their growth and knowledge while they are productive members of our team. What I get out of our input in this industry is seeing people succeed. There is a career path for people now. You can have young people in the factory and nurture them to grow and upskill into Team Managers or Frame & Truss Detailers. I love that part of our industry."
Over the years Phil has learnt not to employ people based on work experience. "Employ on attitude and personality - you can teach everything else. Get the right person who is hungry for work and wants to be better. You'll get amazing benefits from that, even if they leave!  When recruiting I ask more personal questions – what they do, what they are into, people they know, etc.
"We are a pro-training organisation and I like to get to know the team. I talk to them about their lives and the things that motivate and inspire them. I try to mentor them and provide opportunities when they arise. I just want them to do well and believe in themselves. In doing so, we also assist the frame & truss industry to develop and continue moving forward."
We thank Phil for his ongoing support of industry training, sharing his knowledge and commitment to the Frame & Truss National Advisory Group.
More News
As free trades training starts, being an apprentice and training in trades have become so much more attractive.
WorkSafe would like to ensure that you are aware of the risks of working with engineered stone benchtops, used primarily in bathrooms and kitchens.