2022 Villars Award recipient - Gino Haynes
The Villars award was founded by George Villars from Handley Industries.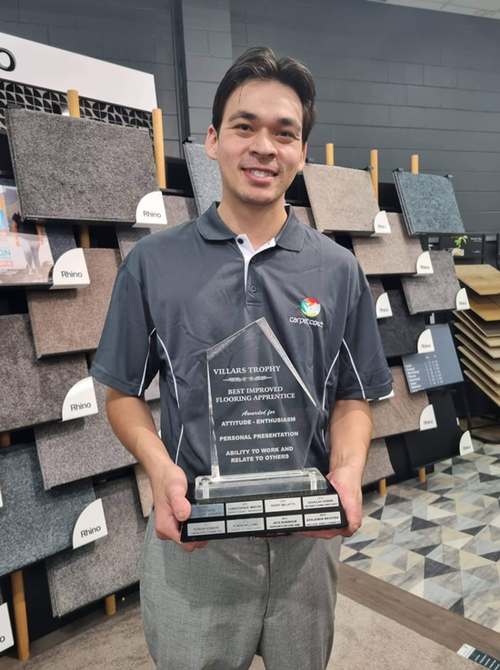 George was a strong advocate for apprentice training for many years. The award recognises an apprentice who has shown outstanding commitment and dedication to their training.
We're delighted to announce this year's Villars Award recipient is Gino Haynes of Extra Textural in Auckland.
Gino is a second-year flooring apprentice who is Deaf. Most people may think being Deaf is a huge challenge in any learning journey, but it hasn't slowed down Gino's progress through his apprenticeship. In fact, he is thriving. He has completed his Stage 1 block course and will be attending his Stage 2 block course later this year.
Gino attended his first block course with sign-language interpreters, and he found their assistance invaluable. This help meant he could keep pace with the other apprentices throughout the course.
Being Deaf does come with some challenges. For Gino, it was learning and writing in English when his first language is sign language. Reading course material would take him hours because he had to read over notes multiple times to understand the content.
Gino has a long list of useful resources to help with overcoming the challenges he faces in his learning journey. He credits the following as his top four: use a dictionary to explain things in 2D, Google Images to explain things in 3D, a work colleague to explain things on the job, and Sign Language Interpreters at block courses.
Gino says what he enjoys most about being a flooring apprentice is working in beautiful homes in stunning NZ locations like Waiheke Island and the Coromandel. Also, having an awesome boss who has gone to great lengths, even as far as learning Sign Language himself so he can communicate more effectively with Gino.
Hamish, Gino's employer has nothing but praise for Gino and believes he has the right qualities to succeed in the trades. He finds Gino to be hard working, funny and a great young man who has a bright future ahead of him.
The best advice that Gino says he has been given is to do your best, learn from your mistakes and practise, practise, practise. His advice to other people who are Deaf who are interested in an apprenticeship is to go for it! Work hard, focus and you never know what could happen. Gino is a perfect example of someone who dreams big, sets goals, and takes action.
We congratulate Gino as recipient of the Villars Award for 2022. We look forward to hearing about your journey in flooring in the future and wish you every success.
More News
Jess Nielsen stands out as a trailblazer after placing third at the 20th Annual Registered Master Builders Apprentice of the Year competition; the first woman to place and the second ever to reach the national competition.
You may be aware of the Government's intention to disestablish Te Pūkenga | New Zealand Institute of Skills and Technology.