Girls just wanna get the job done
Some girls may 'just wanna have fun' as the song goes, but there are plenty of girls who 'just wanna get the job done'.
There's a new, very capable young breed of female trade apprentices donning builder's aprons and getting on the tools in what has traditionally been a male-dominated field.
Nationally, whether it be as builders, plumbers, electricians or mechanics, girls are beginning to take up trade apprentices with many being heralded for their tidiness and meticulous attention to detail.
Locally, 21-year-old Brie Cook has already been turning heads nationally for her precision and building prowess. She was one of two local building apprentice finalists for the Master Builders Apprentice of the Year Southern Region last month (September). Brie, who began her apprenticeship in Queenstown, is now in her third year working for Wanaka-based Gale Builders. Heather Scott-Smith, who works for Queenstown's Top Notch Builders, was also a finalist in the awards.
Brie's friend Georgina Middleton, 26, a former Dunedin restaurant manager, is now in her second year swinging the spanner as a plumbing apprentice for Cromwell-based May Plumbing.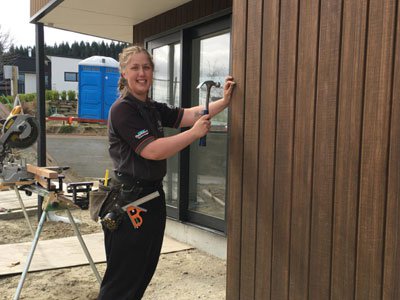 BRIE ON THE JOB FOR HER EMPLOYER, GALE BUILDERS.
A high school work experience programme back in Brie's hometown of Tauranga whet her appetite for the creativity and hands-on nature of trades. A short stint labouring as a kitchen joiner didn't quite cut it, and her father suggested a building apprenticeship. She worked for a year as a labourer first and loved it. "I'd always been interested in art and wanted to do something practical," says Brie. "It's a good skill set, creative hands-on work and good money."
Initially getting a company to take her on at just 18 in the Tauranga region was challenging but Brie says she got a great response from southern building companies.
She fits in perfectly with the blokes and has earned plenty of respect, so the fun quips from the boys on the job are few and far between these days. "Honestly, I don't even think about it. I'm so used to it that I forget I'm the only girl now," says Brie.
In the very early days the team pulled a fun lark on her, but nothing that wouldn't happen to a young male. Brie was sent on a mission to ask the engineer for a long weight to hold roofing down. "They sent me on purpose to ask for the wrong technology when I was brand new," she laughs.
The heaviest and most daunting task she had to master was working a large grinder, used to cut concrete.
HOWEVER, SHE'S MORE THAN OUTSMARTED MANY OF HER MALE COUNTERPARTS THESE DAYS. "I'M PROUD OF EVERYTHING I DO. IT'S ALL A BIG ACHIEVEMENT REALLY," SHE SAYS.
Brie's already saved enough to buy a house in Cromwell and even gets weekends off. She fully recommends carpentry apprenticeships to any other females keen to give it a go. "Just show that you're keen. Employers want someone who's prepared to work hard."
Georgina's father and brother are both builders and her sister is an electrician. Her Dunedin dad had suggested a plumbing apprenticeship and she applied for one in Cromwell. "I decided there was no harm in trying. I'd be mostly outside," she says. She also worked as a labourer for a year to see if she liked it. "I think people should give it a go first for at least three months. It gets a whole lot more interesting," says Georgina. "It's cool to see the progress I'm making."
Naturally, there have been plenty of drenchings when she thought she'd shut everything off and drained down properly but hadn't.
"IT'S A NICE FEELING TO BE ABLE TO DO THINGS YOURSELF," SHE SAYS
Georgina and her partner are currently having their first home built and it's Georgina who's proudly doing all the plumbing and gas fitting.
There's been very little banter about her being a woman in her male-dominated workplace. "Not at all. If anything they're slightly more accommodating to me than they would be to a guy," she says.
BCITO (Building Construction Industry Training Organisation) Queenstown training advisor Craig Freeman says there's been a big increase in apprentices coming through locally, with more women opting in.
The government's post-lockdown tertiary training funding boost has been a big incentive offering free fees. That can amount to about $1000 a year with most apprenticeships lasting three and a half to four and a half years. "We've had girls who have been working in tourism calling us about apprenticeships locally," says Craig.
Building apprentices can start out on anything from the minimum wage upwards with some even earning $28 an hour depending on the skills they already have, he says.
Women are renowned for their tidiness on site, taking care of tools and thinking before they act.
Source: The Flyer, Frankton's local monthly magazine.
More News
The Building and Construction Industry Training Organisation (BCITO) has set a record of 16,000 apprentices in training.
Have you heard? – the NAWIC Excellence awards 2021 are happening and open for nominations!