A glass above
Like many teenagers in New Zealand, Charmaine Farquhar's employment career began flipping burgers at McDonalds part time whilst at school.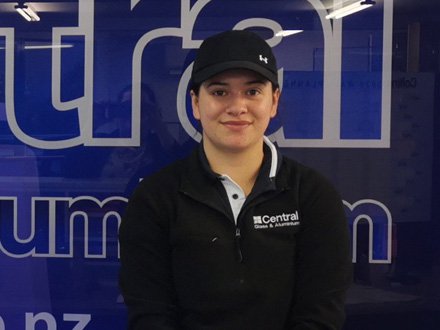 During her two year stint at the golden arches, Charmaine became a crew trainer and was working through her management folder to become a manager. But in 2018 the opportunity to join the glass industry arose and she was hired on a fixed-term basis to cover another employee's leave doing installations administration for Viridian Glass in Palmerston North. Prior to accepting the role at Viridian Glass, Charmaine had been in touch with BCITO about seeking an apprenticeship which she put on hold as she took this opportunity, but she wouldn't have to wait long.
"Throughout my time in the office at Viridian I found a passion for glass and everything to do with glass," Charmaine says. At the end of her fixed-term role, Charmaine was offered the opportunity to begin an apprenticeship with Viridian. "I began my apprenticeship at Viridian where I was mainly involved in commercial and frameless glazing for the year and a half I was there. I have recently taken a role at Central Glass and Aluminium where I am doing more glass cutting, glass processing, frameless and residential glazing," she said.
For Charmaine, there has been a lot to like about her apprenticeship journey so far, "The people I meet and get to work with in particular, as well as working with hand tools and power tools daily. I really enjoy the accuracy and precision required when working with glass as well as the variety of jobs I get to be involved in, ranging from a reglaze at someone's house to installing partitions in a new office building and admiring the finished product."
As one of only eight women undertaking a glass and glazing apprenticeship, Charmaine says being a woman in the trades is no different to being a man in the trades. "I start work at the same time, do the same jobs, lift the same weight of glass, follow the same procedures, have the same attention to detail, same work ethic and we problem-solve together all the while having fun!" As Charmaine puts it, "The only thing different to me and the guys is that I use a different toilet."
For those women who are contemplating a career in the construction industry, Charmaine says, "Do it, being in the trades has been amazing for me. There is so much to learn and you are always busy, you get to work with great people and work on impressive jobs that you get to point out to your mates when driving around town."
More News
As free trades training starts, being an apprentice and training in trades have become so much more attractive.
WorkSafe would like to ensure that you are aware of the risks of working with engineered stone benchtops, used primarily in bathrooms and kitchens.