Glitz and glam of the glass industry
On Friday 14 June the Window & Glass Association hosted their first conference in seven years at Sky City, Auckland. The conference culminated in the evening with the annual apprentice and design awards. 
More than one hundred people from within the Glass & Glazing and Architectural Aluminium Joinery industries spent the day listening to a fine array of guest speakers speaking on 'the future'. There were also a number of trade stands on display, including a shared stand by BCITO and the Glass & Glazing Institute of NZ (GGINZ).
The evening event saw 270 beautifully dressed individuals come together to celebrate the winners of the 2019 apprentice and design awards. For BCITO the big focus was on the apprentice awards, and 2019 didn't disappoint as we had two very worthy winners in the Glass & Glazing awards.
The Glass and Glazing Most Promising Apprentice of the Year Award went to Jacob Clayton from Metro Performance Glass in Dunedin.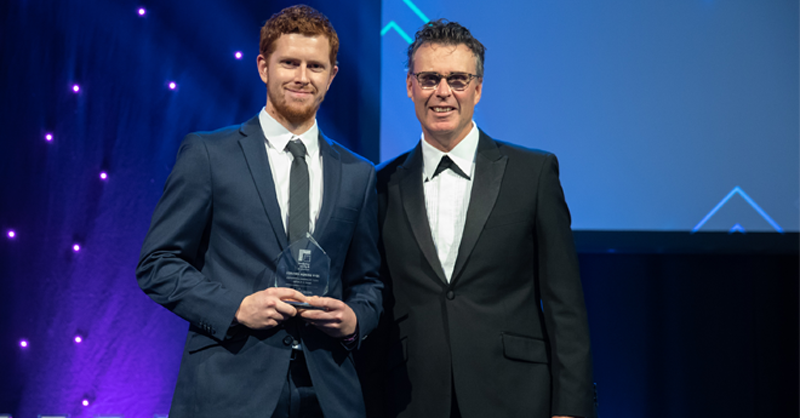 Jacob Clayton (left) being presented with the Glass and Glazing Most Promising Apprentice Award.

For Jacob Clayton, winning the Most Promising Apprentice Award for 2019 was a great moment in his life. "It was really awesome, encouraging and inspiring. It felt amazing to be appreciated and recognised for all the hard work I have been doing," Jacob says. It was an amazing achievement for Jacob's family too as he said it meant breaking out of the norm. "Coming from a decile 1 school where we aren't expected to succeed, it proved to them that it doesn't matter what your background is, it's what you make of it," he said. 
After getting qualified Jacob has a couple of avenues he is considering, including studying toward a Diploma in Business and returning to a company such as Metro Performance Glass with the skills to give back for all they have done for him so far in his career. But before all that Jacob has his eye on one more award during his apprenticeship, "I want that Allan Sage Award, it would be great to win both in my time as an apprentice and I will be giving it heaps in the next year," says Jacob.
The Allan Sage Memorial Award for Apprentice Excellence 2019 was awarded to Darcee McInnes from Viridian Glass in Nelson.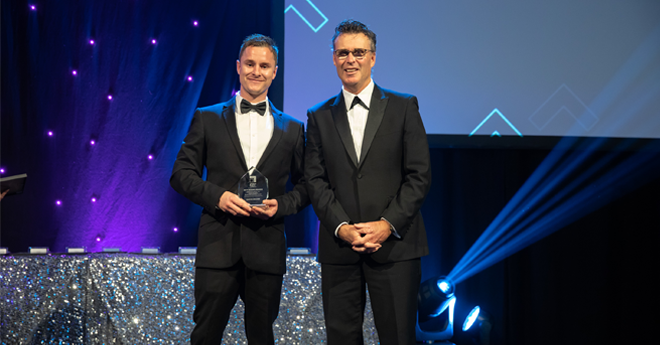 Darcee McInnes (left) being presented with the Allan Sage Memorial Award for Apprentice Excellence

From the first day Darcee McInnes started with Viridian Glass in Nelson he was asking when an apprenticeship opportunity was going to become available. So it's no surprise all his hard work and determination led to him being the 2019 recipient of the Allan Sage Memorial Award for Apprentice Excellence. When asked what winning the award means to him, Darcee sys, "It is an amazing achievement and proves to me it doesn't matter what you put your mind to if you put some pride and determination in your work you will be recognised." 
Having completed his National Certificate in Glazing, Darcee has already started his next apprenticeship, the National Certificate in Construction Trades - Supervisor. "I am looking forward to completing this qualification too and then utilising my skills in a supervisor's role with Viridian," Darcee says. When asked what advice he had for any apprentice thinking of entering the award next year, he says, "Just give it everything, there is always going to be hiccups and bad days but it's how you learn from them. If you don't put your name in, you have no chance before its even begun."
More News
The Building and Construction Industry Training Organisation (BCITO) has set a record of 16,000 apprentices in training.
Have you heard? – the NAWIC Excellence awards 2021 are happening and open for nominations!