Glitz and glam of the glass industry
Top achieving Glass & Glazing apprentices in 2021 celebrated at recent Awards Dinner.
After Covid-19 wreaked havoc on most of 2020, including the Window & Glass Association NZ Gala Awards night, 2021 brought us another chance to celebrate the achievements of our apprentices. On Friday 9July, the Window and Glass industries got all dressed up and made their way to the Cordis Hotel, Auckland for the 2021 Window & Glass Association NZ Gala Awards Dinner. With a large number of entries received, judging was certainly tough in 2021, but there could only be two winners at the end of the day. Big congratulations to the Glass & Glazing Most Promising Apprentice, Keenan Tamarapa from The Glass Man in New Plymouth, and Braden Rowe of Viridian Glass Nelson, the winner of the Allan Sage Memorial Award for Apprentice Excellence.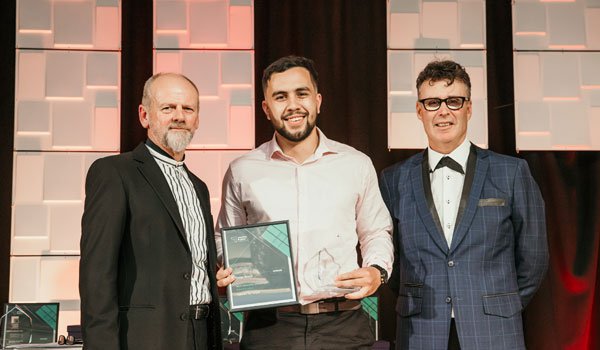 For Keenan, winning the Most Promising Apprentice meant everything to him, "I was over the moon and so proud of myself. It was so good to know that the time and effort I was putting in had paid off," says Keenan. Realising a career goal was also a proud achievement for Keenan, "Ever since I heard about the award, it was something that I wanted to achieve. I've never won any other awards apart from sport, so to achieve an award like this on a national scale has given me the extra boost to want to achieve more!"
Talking to Keenan, it is clear that he has a huge future in the Glass & Glazing industry, so it is no surprise to hear he certainly has big things planned. "I want to become a leader once I am qualified. I also want to do some business management papers so one day I can run my own teams, train other apprentices and do more in the office rather than just being on the tools. Eventually, I would like to move into helping run a business or possibly have my own business."
The Allan Sage Memorial Award for Apprentice Excellence winner Braden Rowe of Viridian Glass Nelson is another highly talented apprentice from the very successful branch at the top of the South Island. After training last year's winner Ethan Taylor, the business is gaining a reputation for teaching some of the country's finest glaziers. Winning this award meant a great deal to Braden, "I feel very honoured, proud and grateful to be receiving this award," he said. "Hearing that I won the award had me feeling excited and grateful that all my efforts throughout the apprenticeship process had been recognised."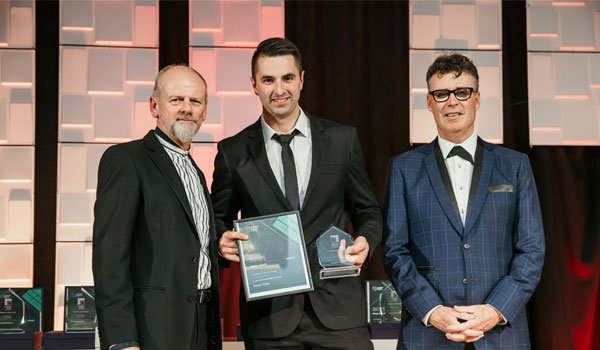 One of the great attributes of Viridian Glass Nelson is the encouragement given to apprentices to look beyond getting qualified to where they can head next in their careers. This has been no different for Braden, who has already secured his next move within the business. "I recently accepted a new position with Viridian Glass as a Sales Representative," he says. "The skills and knowledge I obtained during my apprenticeship have given me a great headstart in the Sales Team where I will continue to grow in the Glass & Glazing industry." In Keenan Tamarapa and Braden Rowe, the Glass & Glazing sector has two fine young people ready to carry the industry into the future.
More News
Press release 18 October: Te Pūkenga is commencing engagement on its proposed Operating Model today.
Te Pūkenga adds building and construction to its toolbelt today, as the arranging training functions of the BCITO were transferred to Te Pūkenga Work Based Learning Limited.