The gold standard
For Brian Fullick owner of Nebulite Wellington Ltd, an opportunity arose in 2007 to take on a business in a progressive industry that was too good to turn down. 
Prior to Brian's journey in the AAJ industry beginning, he had spent most of his working career in the food manufacturing and horticulture industries. Under Brian's guidance, Nebulite Wellington Ltd has continued to develop a reputation as one of the standout training companies in the AAJ industry.
Since the year 2005, Nebulite Wellington Ltd has been actively training its staff with the intention of growing their skilled workforce. "Over the years we have had fourteen apprentices in all, seven of whom are currently still working in the business. This year alone we had four apprentices on our books but we have seen three of those go through and complete their qualifications which is pleasing from a business owner's point of view," Brian said.
One of the quite remarkable statistics about Nebulite Wellington Ltd is that in the sixteen years they have been training apprentices, they are yet to have an apprentice withdraw from their qualification. Brian says the secret to success is simple, "It all comes down to good mentoring and training by the current and previous factory managers, both of whom were former apprentices themselves and progressed through the business."
After demonstrating the gold standard for apprenticeship training in the AAJ industry for a number of years, it seems appropriate to hear what advice Brian would have for other employers training their staff. Brian says, "The most important component is to put a lot of time and thought into the selection process when hiring an apprentice. Once hired, it is about ensuring the apprentice is set up with a good mentor who will put in the time and effort to work with and guide them through their apprenticeship."   
The Nebulite Wellington crew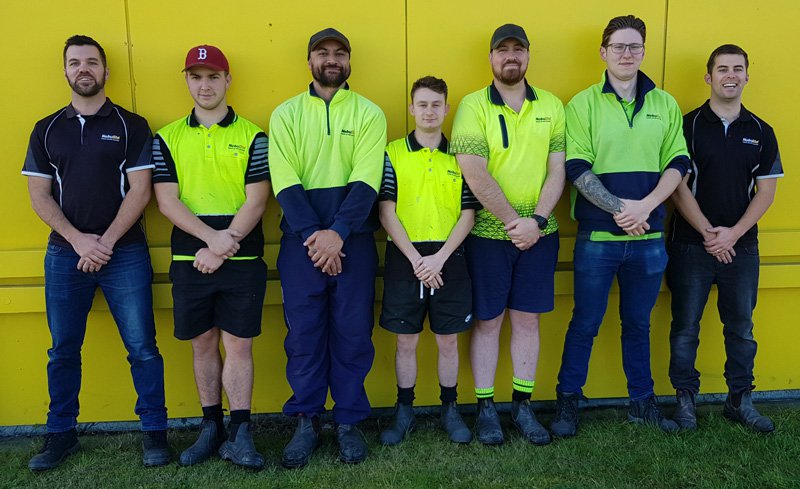 (l to r) Paul Ransfield (Project Manager and Trainer), Kane Gibson (ex-Trainee – now a Fabricator), David Tiata (ex-Trainee – now a Fabricator), Jordon Bell (Trainee), Daniel Armstrong (Trainee), Jaden Hamilton (ex-Trainee – now our Production Supervisor) and Micah Ransfield (Factory Manager – Trainer)
More News
As free trades training starts, being an apprentice and training in trades have become so much more attractive.
WorkSafe would like to ensure that you are aware of the risks of working with engineered stone benchtops, used primarily in bathrooms and kitchens.