Good banter, good music, good times
It's not your usual day at work when you're surrounded by cameras, lights, a film crew, and there's plenty of action going on.  Painting & Decorating apprentice Eden Paraha and Carpentry apprentice, Jessica Moverley got to experience this last year on One's HomeMADE™ show.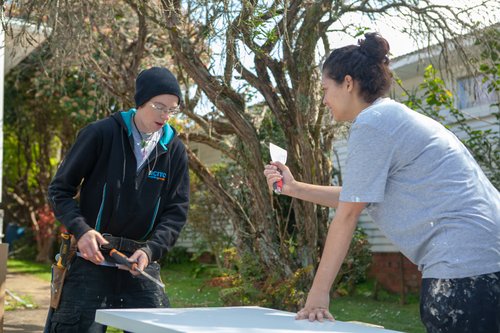 For ten weeks, the HOMEmade™ team surprised a different family each week whose home was in need of major improvement.  They chose one room to renovate and one area of the garden.  The owners hand over the keys and the team took over the house for two days.  The only catch was that the family didn't get to decide which room the team renovated, so they got a big surprise on their return.
Twenty-one-year-old Eden of Profile Property Services in Auckland loved every minute of being part of the show and told us about her experience.  She says, "I enjoyed every minute of it, and it's made me way more tolerable and understanding of working with other trades on a site.  I got a great insight into trades I wasn't previously familiar with and gained loads of experience about how to control the timing of jobs.  In between feeling a little sleep-deprived and the endless coffee-highs we still had to get the job done in two days and time management was essential.
"We would work on the show on Thursdays and Fridays, but I still had to go back to my actual job Monday to Wednesday and catch up on progress.  We would get call sheets early in the week to let us know when we were needed.  Usually, I would start at 11 am on a Thursday, and we would finish up shooting around 2-3 pm on Saturday.  We did a few really long days in amongst it all, mainly because the filming was done during the day and the majority of our work would be completed after the camera crew went home.  We could roll half a wall and then get told to move because we were in the shot or making too much noise, so we got into the routine of working around the cameras, making noise every second that we were allowed.  It was pretty cool seeing behind the scenes and makes you realise how hard it actually is to produce a show like this.
"The real character was probably Dion.  He was the class clown with his bad dad jokes and calling everyone 'tiger' - a very memorable dude.  Ed was the qualified painter on site, and we got on real well.  He taught me heaps, whether it was plastering or little shortcuts (but mainly how to hide from the cameras!).  Jess would always scare me whenever she'd fire her nail gun and then laugh at me and tell me, "no more gaps fixes everything". 
"Conrad, picked up a paint brush more than a few times to help us meet a deadline even though it was well out of his job description, and he always had good banter and good music. He would often keep us painters company after everyone else had left for the day, and we were stuck finishing off ceilings or spraying rooms.
Jessica who works for N Cole is twenty-three and is about to complete her carpentry apprenticeship.  She says, "When BCITO first contacted me to ask if I wanted to be on the show I was nervous about trying something completely new for the first time but I took my own advice which is when you're unsure about something, step outside your comfort zone and give it a go and you'll be surprised at what you can achieve.
"I really enjoyed filming and the overall experience, despite missing out on my usual social life for a bit. Work was really good about it by allowing me time off to do the filming.
"The most memorable thing was when we had to move a playhouse from one end of the property to the other and put it on the deck. We thought we could do it with the people we had there, and it turned out that we had to get a couple of extra hands in to give us a lift because that playhouse was a lot heavier then we thought!

"My favourite episode was when did a house in Otahuhu where we did up their basement which was an area that was set up as a man cave. It looked really tired when we started, so we went through and took everything out and made a detailed ceiling with stained timber going the length and did the same with the clip together flooring to give the illusion that the room was longer than is was. Also put in a dart board, a little bar and my favourite - we put in a projector and a screen that could be controlled by a remote to hide away in the ceiling. 
"What I took away from the experience is that when you've got a short time frame to get everything done, you need to work together with everyone and help where you can so everything can be done quickly.
"Everyone who worked on HomeMADE™ was super cool, a bunch of really talented people who worked tirelessly and all pulled together to create something stunning for some truly deserving families. I was proud to be able to lend a hand and help improve their lives just a little."
More News
The Building and Construction Industry Training Organisation (BCITO) has set a record of 16,000 apprentices in training.
Have you heard? – the NAWIC Excellence awards 2021 are happening and open for nominations!