Got a Trade Future Leaders Forum 2017
The Future Leaders Forum, held at Westpac Stadium, Wellington on 23 August, brought together over 50 of New Zealand's outstanding trades and services apprentices for an amazing day of leadership, inspiration and development. 
From the opening address given by Minister Upston, the day was non-stop with activities, learning and networking through to inspirational speeches from Grant Scott of Shed Boss and Liam Malone, New Zealand Gold Medal Paralympian.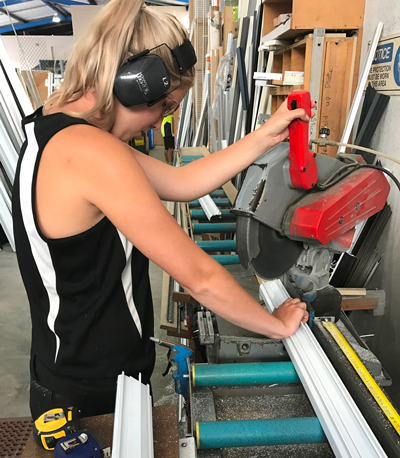 Architectural Aluminium Joinery apprentice Shevonne Evans from Gateway Glass, Tokoroa was one of the six apprentices selected to attend this Leaders Forum on behalf of BCITO. Here's Shevonne's journey and thoughts about the day.
"I've been around the glass and construction industry my whole life. I guess one could say it's in the blood. I volunteered to help out at Gateway Glass's office when I started high school, but my AAJ journey didn't begin until a few years later. I was offered an aluminium apprenticeship in the Rotorua branch of Nulook Gateway and worked there for five months before being signed up as a BCITO apprentice and being transferred to the main branch of Gateway Glass, Tokoroa.
"Throughout my training as an Aluminium Joiner and Fabricator, I have enjoyed the hands-on nature and style of instruction given to me by my supervisors. They are experienced, have a wealth of knowledge and are passionate about their trade. This enthusiasm has been a key driver in my desire to be the best I can, particularly as a female in a male-dominated workplace.
"So it was an opportunity not-to-be-missed when BCITO asked if I would be interested in applying for the Got a Trade? Got it Made! Future Business Leader Awards", held in Wellington.
"I found it very inspiring to see how passionate everyone is about their particular trade. There are a whole lot of trades that I didn't even know about but I guess you mainly hear about the trades you work closely with. For example, I met a tradie who works with elderly people, specialising in dementia and has created a new dementia unit in Hamilton. I learnt the benefits of networking with other trade apprentices.
"After talking to Rikki Dewes, plasterer, I realised that the trades in the construction industry all rely on each other to survive and that it's a combination of all the trades that make New Zealand work.
"When my boss told me I had been selected to represent BCITO at this event I was stoked. As one of only a few female apprentices in my trade, I was proud to be representing BCITO. I was always an average achiever at school, so to be excelling in something that matters, like my career, is something to be proud of.
"Now, that I have been involved in the Got a Trade? Got it Made! Future Business Leader Awards, I am striving to keep learning more about my trade and the trades I work alongside. I want to make an impact and show how important it is for the industry to keep training and motivate more businesses to take on apprentices. In my future, I want to be an inspiration to females in the trade.
"My current goals are to own and manage a successful business in the Architectural Aluminium Joinery and glass trades and to become a spokeswoman/role model, alongside BCITO, to show women that they can succeed in the construction trades.
More News
BCITO Frame & Truss National Advisory Group member Andrew McLachlan, from Placemakers in Wiri, willingly took up the opportunity to attend a two-day invitational at Outward Bound in Anakiwa.
One of this year's contestants on TVNZ One's Design Junkies is Tiakitai Haronga, BCITO carpentry apprentice of Argyll Building in Hawke's Bay.