Industry aims to boost women in trades
Women are hugely under-represented in the trades, and an industry group is pushing for improvement.  
Across construction, engineering and manufacturing industries, the number of women working in trades is extremely low, ranging from less than 1 per cent to almost 10 per cent. Only 17 per cent of male employers employ women tradies.
"If we're to have any chance of meeting demand, businesses need to look beyond the usual 'go-to' groups when recruiting. Overlooking women as a solution to the skills shortage means 50% of the potential labour force is being ignored. Women offer a new way of thinking, they're good problem solvers, and help bring diversity to a male-dominated industry," says Building and Construction Industry Training Organisation (BCITO) Chief Executive, Warwick Quinn.
Businesses who employ women in trades say that "attention to detail and softening behaviours" in the workplace were among women's strengths, according to new research launched by a partnership of vocational training organisations at the Industry Training Federation VET Research Forum in Wellington today.
"The trades are an excellent career choice for women," says Erica Cumming, Chair of the Women in Trades consortia.
"Trades can be as financially rewarding as getting a university degree, giving women the opportunity to earn as they learn and offer a fantastic work-life balance. Female school leavers who enter apprenticeships earn $145,000 more than their university counterparts by the age of 30.
"There are many specialisations in the trades and they don't all involve being on the tools all of the time. If women were more aware of these opportunities, they could see rich career opportunities they might like to pursue," Cumming said.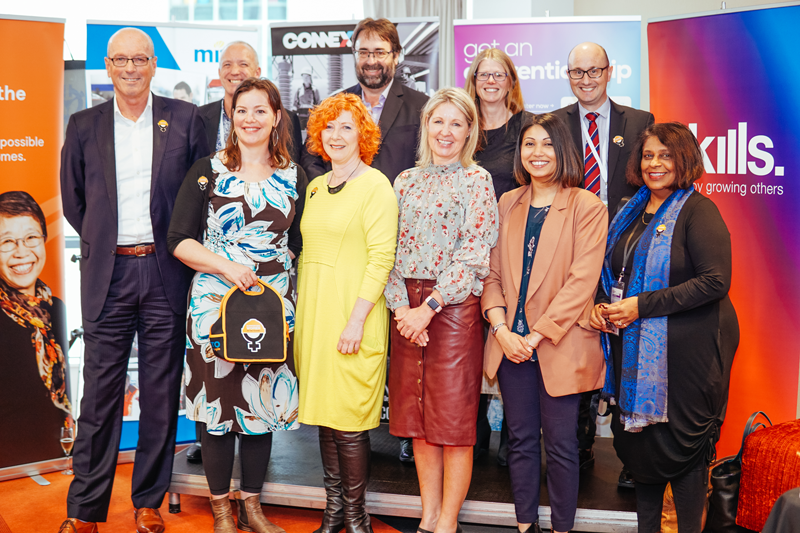 Women in trades research consortia members with Hon Julie Anne Genter, Minister for Women
Women experience five key barriers to joining trades where they are traditionally under-represented, including lack of knowledge about opportunities and pathways, lack of work experience, finding employers willing to work with women, male-dominated workplace culture and the lack of sector or workplace support for women.
"We have a big opportunity to raise awareness among employers about the benefits of hiring women. The research identifies several actions that employers can take to attract women," says Cumming. 
As lead of the research consortia, BCITO has set two ambitious goals. The first – by 2025 have women make up 10% of BCITO apprentices, and the second – by 2040 to have 30% of construction trade roles filled by women. Currently, less than three per cent of construction tradespeople are women.
The Women in Trades Research was undertaken by UMR Research, Kylie Trafford, Mark Williams, Loretta Garrow, and Scarlatti, in partnership with BCITO, Skills Org, Competenz, MITO, Connexis, NAWIC, The Southern Initiative, Auckland Māori and Pasifika Trades Training, Kelston Girls' College, MIT and the Industry Training Federation. It was supported by the Ministry for Women and Ako Aotearoa - New Zealand's National Centre for Tertiary Teaching Excellence.
Ends

For further enquiries, please contact:
Kiri Shannon
Acumen Republic on behalf of BCITO
T +64 21 0234 4157


More News
Press release 18 October: Te Pūkenga is commencing engagement on its proposed Operating Model today.
Te Pūkenga adds building and construction to its toolbelt today, as the arranging training functions of the BCITO were transferred to Te Pūkenga Work Based Learning Limited.