Innovative, creative and always training
Milvia Hannah has been in business for 26 years, dealing in residential designs for individual customers, commercial apartments and commercial projects. Her business, German Kitchens Ltd is a high-end kitchen retail and design studio in Wellington which pushes the boundaries of innovation and creativity.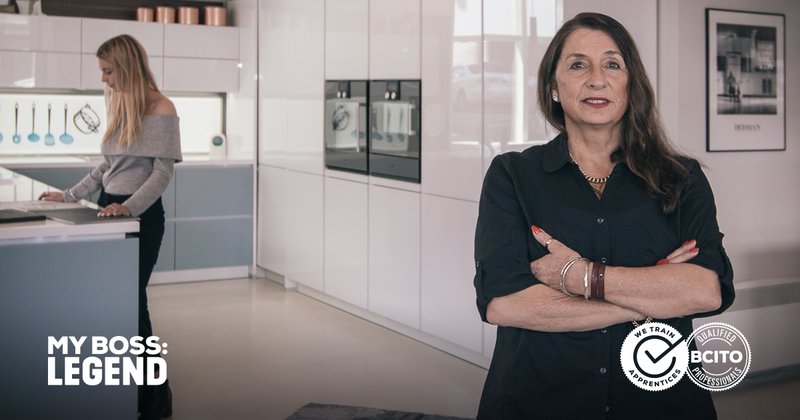 Part of Milvia's team's success can be attributed to her work ethic and positive, bubbly approach to everything and (in her apprentice's own words) – 'she's a really good person to be around'.
Milvia says, "I encourage my staff to express their own style. Work should be fun - if you find a job you love, then you'll never seem to be working again!
"The key to managing a successful business is allowing yourself, and your business, to evolve over time.  Training plays a key part as it allows the individual, the business and the industry to grow. Industry Training sets a benchmark for the trainees to achieve, to gain knowledge, experience and a qualification – in turn, this gives the customers confidence that they are dealing with a qualified industry professional. But it shouldn't stop there - there's always something new to learn every day. Every job is a chance to try something new."
As a small company of four, the team at German Kitchens Ltd work closely together, and trainees are involved with the customers from the start as well as being involved in all the daily aspects of the business. Because of this, the company has a very strong team culture. Milvia says, "Success runs both ways, so providing trainees all the necessary encouragement and assistance to succeed is important. You need to be hands-on and willing to break down processes into smaller chunks to facilitate effective learning.
"Running your own business can be hard going at times.  I might work 80 hours a week for myself, but that's so I don't have to work 40 hours for someone else! I decide how the business is run based on my values and expectations. That means leading from the front, being understanding, consistent, considerate, a good listener and most importantly creating a fun and relaxed working environment for my team."
Legend 'wise words'
an effective leader needs to lead from the front, be understanding, consistent, considerate and be a good listener.
a commitment to industry training means providing a structured pathway for someone to gain a qualification and to encourage and support the trainee throughout that learning process.
best business decision was taking on our first trainee.
life-long learning means having a career that evolves over time, where there's  always something new to learn every day.
at the end of a tough week we reflect on the week and have a few laughs with the team socially and then I escape to spend time with family and play sports.
in 5 years I hope to be in Auckland watching New Zealand retain America's Cup!
Milvia Hannah, German Kitchens Ltd
View Milvia Hannah's story and more stories about other legendary bosses.
More News
The call has gone out for nominations in the 2019 NAWIC Excellence Awards partnering with BCITO, with entries open now and closing on Friday, 12 July.
We have approached the Reform of Vocational Education (RoVE) proposals put forward by the Government in good faith, with our response being led by our industry's views on the reforms. You can read our Submission now.