Company Profile - Insite Facades Ltd
In March, we spoke with Jonathan Calder, Managing Director and Roxanne Mason, HR Advisor Insite Facades Ltd, to hear what makes their business tick.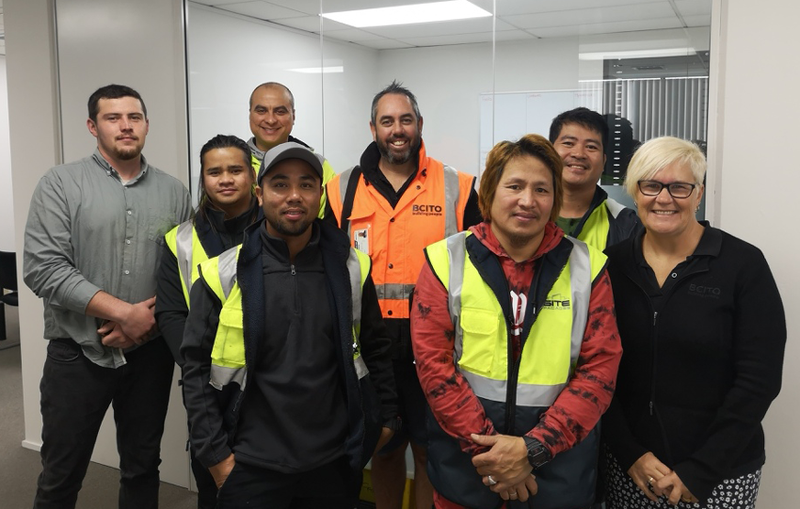 The team at Insite Facades Ltd with BCITO people
How long has Insite Facades Ltd been in operation?
Jonathan: Insite Facades has been in operation since November 1989. I was initially working in London in 1985 on my OE for a Swiss window company where I started working as a labourer and progressed up through the ranks over three years before coming back to NZ in 1988. The business started as Jonathan Calder Enterprises in 1988 but was incorporated as a company in 1989. We changed our company name to Insite Facades Ltd in 1995 while working on the Sky City project.
How many apprentices do you currently have, and how long have you been training your people?
Roxanne: We currently have 23 apprentices in training with BCITO. We have already had ten qualify, of which two are currently undertaking the supervisor qualification. We have been training our people through our internal modules since 2013, when they were written and started training with BCITO in 2018. We have found that BCITO qualifications complement the in-house training we have had in place during the last seven or eight years.
You mentioned your internal training modules. Can you tell us a little about these?
Jonathan: Our in-house training modules follow a sequence of the installation process, from setting up sites through understanding shop drawings to survey & set out and all other aspects of window and façade installation. All the training modules are very competency-focused to assist learning and progression.
Roxanne: We have a competency level system that starts when we first bring someone into the business. Level 1 is when you are being mentored and learning about the business. Level 2 is your standard commercial window installer. Level 3 is your experienced, competent window installers who buddy up with a junior and help train them. The competency level system goes right up to level 6, who are your site supervisors or managers. Our Installers have been very keen to enrol in the AAJ qualifications since we introduced them in 2019. We often have a waiting list for the next intake, proving the value of having these qualifications available for our team.
Why is industry training so valuable to your business?
Jonathan: The main reason is the culture and engagement with your people and reinforcing our company values. From a business perspective, a skilled team is crucial for us to deliver successful project outcomes and the confidence to undertake future complex and large scale projects.
Roxanne: It also leads to staff retention, which is a massive bonus, we have a very low turnover which helps keep the quality of our work at a high level. If you invest in training and upskilling, people will invest back into the business as they know they will get looked after.
With many active apprentices and a thorough training culture being led from the top down, it's no surprise to hear about the great success at Insite Facades Ltd. A big thank you to Jonathan and Roxanne for your contributions, and we look forward to hearing more about the success of your business.
More News
We have put in place a vaccination policy and process that allows us to protect everyone and meets the requirements of the Covid-19 Protection Framework (traffic light system).
New Zealand Master Joiners Otago Chapter, BCITO and the National Kitchen and Bathroom Association have been holding a graduation ceremony for Joinery and Kitchen Design apprentices for ten years.