Introducing Alexandra Riddell
2021 recipient of the Judy Bark Cup for Most Promising Design Student.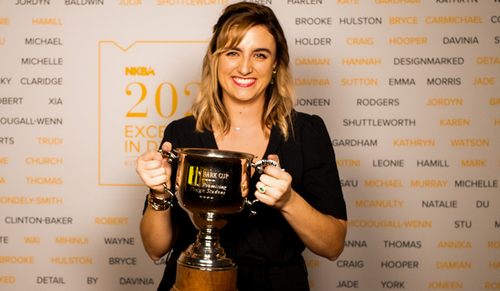 Who hasn't sat at an awards gala and wondered what makes an Award Winner? From an external perspective, an award and the snapshot of the award winner is two-dimensional as the moment of celebration is fleeting. This story explores the third dimension - the conditions, behaviours, and innovative thinking that, when combined, make a winning student designer.
Alexandra Riddell of Mastercraft Kitchens Tauranga is the 2021 Judy Bark Most Promising Student recipient and so much more.
When asked when her love for design began, Alex reflects on her childhood, sharing, "I grew up in Brittany, France and, from age 12, I would help my mother renovate our home, working alongside her redesigning and modernising rooms. I've always had an appetite for design."
"I lived in London for seven years working in real estate, presenting some of the most prestigious homes in Sloane Square, Chelsea, and South Kensington. All had stunning kitchens and bathrooms. It's impossible not to be drawn in. This reignited and influenced my love for shape, space, and colour.
"I left London in 2015 and returned to Brittany, married a Kiwi and then we moved to his home town in coastal New Zealand. Not long after, I started working in the Kitchen Design sector. In 2017 I joined Mastercraft Kitchens Tauranga, a Design house of award winners, and enrolled in the NZ Diploma in Design in 2020.
"Over the years, I've worked on some challenging renovation projects where innovation has trumped the natural desire to mock up a design. One example that comes to mind was removing walls in a period home to create open-plan living. The only downside of the remodel was a structural pole positioned centre of the new kitchen island," says Alex.
"An innovative solution helped my clients embrace the quirks of renovating their heritage property. Sometimes, we have to celebrate history and character versus making an awkward attempt to disguise it. Stylish hooks and modern plants eclipsed cabinetry marking a beautiful transition from old to new.
"I am currently working on a project for a couple in Te Puna who are about to retire. Their son is building a designer home for them. My areas of focus are the kitchen, scullery, laundry, and bar areas. The lady of the house is a baker and cook. Working together, we've designed a space that pays tribute to her lifelong purpose and passion, respectfully showcasing a lifetime of culinary collections."
When you meet Alex, it's so obvious it's not just about the space, fashion, and establishing core functions. Instead, it's about being empathetic to what a person loves then reflecting that connection in the design or material choices. It's also about making life easier and understanding routines and lifestyles.
Alex says, "I have clients who work at the Martha Mine in Waihi, their connection to gold is a big part of their life. I suggested bringing this element into their home using Silestone Calacatta Gold, an elegant but simple acknowledgment. During conversations, a love for being outdoors weaved its way into our design sessions. These exchanges resulted in the project expanding to include the laundry, which now, after clever design, doubles as a mudroom enabling my clients to walk in from the wild rain returning to a functional space where they feel comfortable removing muddy boots and hanging wet coats.
"I work in a supported environment with seven fabulous designers at Mastercraft. In moments of doubt, we collaborate, drawing from our combined skill, knowledge, and experience – a recommendation through fresh eyes can be the difference between too much or magnificent."
Alex is also a Reiki therapist. Her wish is to combine kitchen and spatial design with energy flow and well-being. She says, "We celebrate rituals, teach and practice generational recipes, and make new memories in our kitchens. I dream that clients will love and feel physically good, at peace, and in harmony in my designs."
For Alex, winning the Judy Bark Most Promising Student award is an honour and serves as a reminder that hard work pays off.
Mark Bruce, NKBA Education Tutor and nominator of award entries, says, "Alex was memorable from the week's course because of her massive enthusiasm to learn. She was visibly excited to be there. She left a young baby with her husband to attend her off-job training, it was a big personal sacrifice for her to attend, but she was incredibly uplifting and was fully engaged throughout the week.
"Her assignment was a standout firstly for not having any re-work required but what was more impressive was the depth of research she did to form her opinions. She included a lot of her own experiences and mixed them with the science provided within the course. Her insight into the importance of establishing a relationship with the client was there before the course. She instinctively knew that to design for someone they must trust and respect you. Therefore, she attended this course to increase her knowledge so that trust and respect could be backed with qualifications and a higher level of design service.
"A big part of this award is what a student has achieved, and their potential - Alex is destined for great things."
BCITO would like to thank this year's judge Michael Hawkin of Blum, for accepting the challenge of determining the 2021 awards recipient and Colin Campbell of Mastercraft Kitchens Tauranga for investing and supporting design students and joinery apprentices in their education journey.
Most importantly, BCITO congratulates Alexandra Riddell, the 2021 Judy Bark Most Promising Student.
More News
We have put in place a vaccination policy and process that allows us to protect everyone and meets the requirements of the Covid-19 Protection Framework (traffic light system).
New Zealand Master Joiners Otago Chapter, BCITO and the National Kitchen and Bathroom Association have been holding a graduation ceremony for Joinery and Kitchen Design apprentices for ten years.