Introducing Leon Downes
Interior Systems Industry Advocate, Helen Hines-Randall, chats to Leon Downes, GM of Prestige Ceilings & Linings Ltd and a member of BCITO's Interior Systems National Advisory Group.

Leon, how did you get into construction?
My father was a plumber and my grandfather had a construction company and was a foundation member of the NZ Clerk of Works in Wellington. I've also an uncle who's a carpenter so it's in the family. 
I was a carpentry apprentice with Fletcher Construction and worked on heavy concrete construction and then I was lucky enough to move into Interiors. After I qualified, Fletcher offered me a Cadetship that led me to completing a Certificate in Building, and then I ran smaller projects with Fletcher Interiors.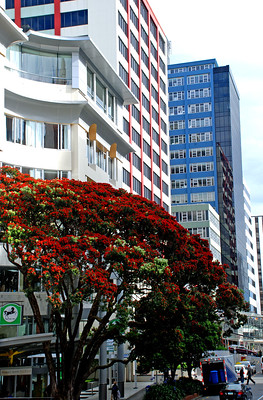 What gives you the buzz?
One of my personal, greatest achievements, was the installation of a glass protection canopy outside the Wellington Club on The Terrace – Wellington, that had to be built to go around a Pohutukawa Tree. That was my last job with Fletcher Construction before I joined Prestige Ceilings. Now, more than 20 years later, I'm the General Manager of Prestige Ceilings & Linings Ltd where we employ 30 staff, also bringing in contractors when we need them. 
Tell me about joining the BCITO National Advisory Group for Interior Systems
The training that I received at Fletcher Construction set me up for working on great projects that gave me a depth of knowledge that I wanted to share. When I went to Prestige I wanted to put some training protocols in place as I could see the value of training through the training that I received. 
At the outset I was a bit skeptical about some of the different programmes and the skills and knowledge embedded in them. But then when I undertook some of the programmes it was really an eye-opener. The programmes gave you the information that your needed and it was up to the apprentice to take that and run with it. I was able to support my apprentices better as I knew what was in the programmes. The way BCITO operates the review of qualifications now is great as you'll get the Qualifications and Learning Designer talking one-on-one or will come out and see you to work through the content of a new or revised qualification. I've really appreciated the way the BCITO team operates now.
I always want to be involved with something if I think I can add value and make change, or offer a different point of view - have we thought about other options?  Do we do things differently now? The National Advisory Group are a very strong and knowledgeable group and can really make a difference.
Still upskilling?
I'm currently working through the Supervisor qualification. I started it to see what it was all about and to make sure it was relevant to my staff, and it is, so have now had two staff complete the qualification. The Training Advisor we had was tremendous and because he had worked in a senior role in industry, his style was such a great fit for my staff. I'm currently looking at having one more staff member enroll. I particularly like the fact that it wasn't masses of bookwork and everything I needed came loaded on a datastick.
Where to next for Leon Downes?
Prestige have a Sales Company so we are constantly trying to develop product or systems that are better for the industry. This is hugely important to me and it's great to get involved in developing new materials that provide a better offering to our clients. 
I really love this industry and the people. The National Advisory Group are there to make a difference – sometimes you're right and sometimes you're wrong but I like the people we deal with.
I'm a Director on the Board of Wellington Rugby League, as well as on other executives including Lions. Serving the community and giving back to people is extremely rewarding.
What do you see as the future for the interior systems sector in the medium to long term?
We're all crystal ball gazing at the moment but there's plenty of work on in Wellington and Manawatu and being across both sectors, it is ready, steady, go…
We thank Leon for his ongoing support of industry training, sharing his knowledge and commitment to the Interior Systems National Advisory Group.
More News
The Building and Construction Industry Training Organisation (BCITO) has set a record of 16,000 apprentices in training.
Have you heard? – the NAWIC Excellence awards 2021 are happening and open for nominations!