From Ireland to Auckland
Just over five years ago, Gregory (Greg) Kinsella's sister took a trip back to Ireland from New Zealand to christen her newborn.  He had no idea her return would change his life.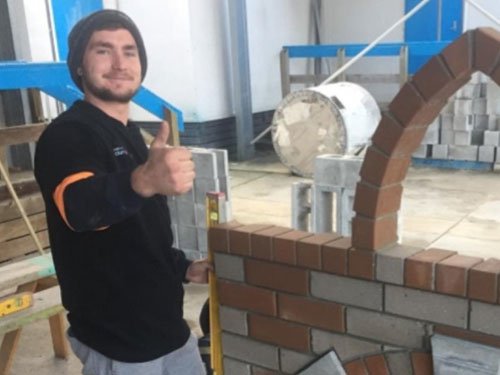 "I was studying sports therapy and injury management in college, and I just didn't feel like it was for me anymore, I was looking for a change. So it came up if I would like to come out to New Zealand and see what it had to offer. I came here in April 2015 on a one-year working holiday visa but I never imagined I would be here five years later with a brick & block qualification behind me," Greg says.
After jumping on the plane and making the 30-plus hour trip across the world, it was time for Greg to make a change in career choice, brick & block laying was the answer. "I got involved when I arrived here, and I was very fortunate to start labouring for my brother-in-law as he was new into his own brick and block business, MCD Brick & Block Laying Ltd. So after I had done a full year of labouring, I was very interested in moving up the ladder after I had mastered the basics," says Greg. The next step for Greg was to sign in to the National Certificate in Brick & Block Laying (as it was back then) and begin an apprenticeship.
Throughout Greg's apprenticeship, he received great satisfaction from the work he produced, mostly because he has picked up or used all learned methods of doing things and seeing the finished product. One job, in particular, has stood out, "The best job I've worked on would have to be the new Westfield Shopping Centre in Newmarket. It was a very well run job with plenty of challenges and opportunities to build different things such as circular/egg-shaped planter boxes, curved walls and raked walls," he says.
Outside of work, it's no surprise that Greg likes to relax as a career in the brick & block industry can be physically demanding. "I also like to cook, keep fit and exercise regularly. It's important to keep a healthy mind and body outside of work and important to keep fit for the job too," says Greg. As for the future now with a qualification behind him, he has an idea on how he would like it to play out. "Depending on how the economy looks after Covid-19, and with a few more years' experience, I'd like to set up my own business. Focus more on the fancy side of brick and block laying and bring back fireplaces, arched windows and doors, and to be more creative than some of the things you see today," says Greg.
More News
The Building and Construction Industry Training Organisation (BCITO) has set a record of 16,000 apprentices in training.
Have you heard? – the NAWIC Excellence awards 2021 are happening and open for nominations!