It takes two, & BCITO
Passionate about their trades, Auckland couple Leoni Horley and Daniel Andresen graduated from their BCITO apprenticeships in June. Leoni as a joiner. Daniel as a carpenter.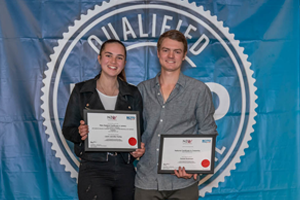 Daniel had always been set on a carpentry career. He participated in the Macleans College Gateway programme, which saw him spend one day a week on a building site.
"It was the best thing. It meant I was able to get a good idea of what it was like working in the building industry, and I enjoyed it so much that I went into an apprenticeship straight after high school."
Daniel has now been working as a building apprentice for four years.
"I don't like sitting down and wouldn't enjoy working in an office. In my role, I get to work with my hands and create things."
Leoni's path was less straightforward but just as successful. After leaving high school, she studied product design at university but left after realising it was not practical enough for her. She then trialled a variety of trades before deciding upon joinery.
"Madison Recruitment set me up with an apprenticeship with Peter Hay Kitchen Manufacturers, and I haven't looked back since. I enjoy the detail of the work. I love that everything has to line up perfectly."
The partners both found their apprenticeships challenging but rewarding.
Leoni says, "I enjoyed and learnt a lot doing book work with BCITO. My training advisor Jack Griffith showed me how joinery worked and transferred his knowledge to me. My boss and the team at Peter Hay have also been incredibly accommodating and have helped me become a better joiner."
Daniel had a similar experience. "My BCITO training advisor Dean Vivian visited me on-site regularly to see and talk about the news skills I'd gained. We did this every three months until I completed my apprenticeship. Initially, it was a steep learning curve, but I was never overloaded. Faulkner Construction, my employer, was really helpful. They moved me to different work sites where I was needed, so I could learn new skills and become qualified quicker."
Daniel and Leoni are partners who are working towards a better future together in the building and construction industry. New Zealand needs more skilled people to become tradespeople with similar ambitions. Find out more about how to start training your team and what support is out there for you.
More News
We have put in place a vaccination policy and process that allows us to protect everyone and meets the requirements of the Covid-19 Protection Framework (traffic light system).
New Zealand Master Joiners Otago Chapter, BCITO and the National Kitchen and Bathroom Association have been holding a graduation ceremony for Joinery and Kitchen Design apprentices for ten years.