It's a woman's world
Five years ago, Emma McIntyre took a leap of faith when she started an Architectural Aluminium Joinery (AAJ) apprenticeship with BCITO.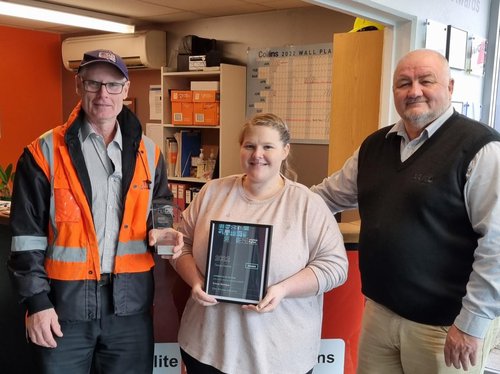 Having recently won the prestigious AAJ Apprentice of the Year, we caught up with Emma to discuss her journey in the trades.
"I left high school to study nursing, then realised it wasn't for me, and decided to become a tradie instead. The world of construction was appealing, so I applied for a role at Warkworth's Elite Window Solutions as an AAJ apprentice, and the rest is history."
Emma has since completed three BCITO qualifications: AAJ Machining and Fabrication, AAJ Joiner, and AAJ Estimator – but she is not done yet. Her next goal is to complete a supervisor qualification, which speaks to her enthusiasm and commitment to ongoing learning and progression.
Despite the construction industry being largely male-dominated, Emma has made her mark as a skilled and competent tradie. Her employer has also been supportive of Emma, both inside and outside of work, during her pregnancies.
"Working in this industry is a real privilege. I encourage anyone curious about the trades to start an apprenticeship. In my youth we were pointed towards university, but there is so much that the trades can offer."
In the last five years, three women have won the AAJ Apprentice of the Year award. It's a reflection of how the trades have been changing to become more inclusive over time.
"I'm really proud to win this award. It's a nice reflection on the effort I have put in over the last few years."
Emma's BCITO Training Advisor, Murray Atkinson, says Emma is one of the most future-focussed apprentices he has come across.
"I can't speak more highly of Emma as a person or professional. She is determined, hardworking, and has a bright career ahead of her in the construction industry."
Brett Francis, CEO of the Windows & Glass Association New Zealand, says that one of his organisation's goals is to play a positive role in increasing the number of women in the industry.
"Women have so much to offer and will continue to drive the industry forward. The recognition and celebration of skilled and talented women, such as Emma, gives me so much hope for the future of the industry."
BCITO encourages people from all backgrounds to consider an apprenticeship. Learn more
More News
Jess Nielsen stands out as a trailblazer after placing third at the 20th Annual Registered Master Builders Apprentice of the Year competition; the first woman to place and the second ever to reach the national competition.
You may be aware of the Government's intention to disestablish Te Pūkenga | New Zealand Institute of Skills and Technology.