JMA Decorators
Leaving a legacy through training.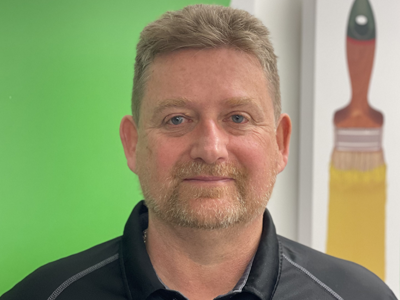 John Adair of JMA Decorators Limited has trained many apprentices over the company's 26-year history. JMA is currently supporting 20 staff on their journey to achieving their painting and decorating qualifications.
John grew up in Scotland and, at the age of fifteen, he remembers telling his school chemistry teacher that he was going to be a painter and decorator. John, true to his word, left school and completed his apprenticeship working for his uncle. Within two years of completing his apprenticeship, John began working for a family friend's company and stepped up to become part-owner of the business. "That company had 150 painters and carried out a range of commercial work," says John.
John left Scotland, travelling to New Zealand for a year on a working holiday. He then returned to New Zealand four years later and started JMA Decorators in 1995 as a sole trader. Over the next 26 years, John developed his business. The JMA team now consist of 56 employees, plus subcontractors, and they carry out a diverse range of work.
Being in the industry has given John a lot of personal and professional satisfaction. He says, "I thoroughly enjoyed being on the tools, as you can look back at your week's work and physically see what you've achieved. As a business owner, you get a lot of enjoyment in leading your teams and seeing your business grow and develop."
John identifies training as a key strategy to developing his team and business. "To truly have productive staff they need to be trained and qualified. There's a big difference between brush hands and qualified painters and decorators. A qualification gives you the trade knowledge you need to be able to problem-solve," he says. John adds that there's more to training than boosting productivity for the business, "Finishing their qualification gives people mana and a sense of achievement. It strengthens them as a person. Qualifying helps people believe in themselves and grow in confidence."
John says, "My top tip for training is engage with your apprentice's training by asking them questions to test their knowledge and problem-solving skills. Don't embarrass them if they don't know the answer, rather set them a challenge to find the answer and follow up."
Outside of work John is a keen fisherman and enjoys taking his campervan for a spin. His two daughters are now grown up, one of whom works in the business. The industry needs more employers like John to grow a skilled workforce. John's message to the industry is to invest in yourself as an individual and get qualified.
More News
We have put in place a vaccination policy and process that allows us to protect everyone and meets the requirements of the Covid-19 Protection Framework (traffic light system).
New Zealand Master Joiners Otago Chapter, BCITO and the National Kitchen and Bathroom Association have been holding a graduation ceremony for Joinery and Kitchen Design apprentices for ten years.