Joinery's most promising
Meet Craig Tuapawa, joinery's most promising apprentice.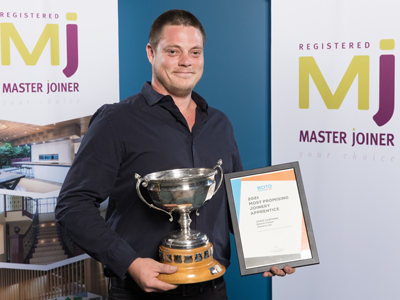 Craig Tuapawa is an experienced tradie. Having recently been named the BCITO Timber Joinery Most Promising Apprentice, he shared his intriguing journey with us.
Hamilton-based Craig left school to start a plumbing course. He worked in the plumbing and gas-fitting industry for two years before moving into building and construction. His motivation to pursue joinery developed from an increasingly sore hip alongside a realisation that he preferred the finer details of the trades.
"It was actually my boss who brought the idea of moving trades to me and introduced me to the team at NT Joinery. Joinery seemed like the natural next step for me. I get a lot of satisfaction from thinking things out and focusing on the small details. It was an opportunity to improve my skills."
Whaea McBeth, Business Support Manager at NT Joinery in Hamilton, says Craig is the most accomplished installer the business has.
"Craig came on board a couple of years ago after sparking an interest in cabinet making. After six months, when we decided to establish our inaugural install teams, Craig put his hand up and hasn't looked back since."
"While always being a humble guy, he is a really skilled and efficient worker who is great at troubleshooting. We nominated him for the BCITO Timber Joinery Most Promising Apprentice award and were delighted when he won."
Craig says it feels fantastic to win the award. He did his apprenticeship through BCITO and thinks that the organisation has been helpful for his learning.
"I was surprised when I won. It feels good to be recognised for my skills in the industry."
"My training provider Scott was great. I could contact him at any time on email or phone, and he always gave me notice as to when he was coming in to assess me. I always knew what was required of me."
Craig encourages other people to consider a career in the trades.
"It's wonderful to make something from raw materials and transform it into something that makes our clients happy. The morale boost is huge."
BCITO needs more skilled people to become tradespeople. Find out more about how to get started and what support is out there for you.
More News
Press release 18 October: Te Pūkenga is commencing engagement on its proposed Operating Model today.
Te Pūkenga adds building and construction to its toolbelt today, as the arranging training functions of the BCITO were transferred to Te Pūkenga Work Based Learning Limited.