June takes the floor, showing younger generation how it's done
When June Jeffs was helping her son register for his flooring apprenticeship, it got her thinking. Why didn't she get qualified too?
June is an owner and team leader at the business she and husband Murray started in 2015, Tauranga Flooring and Prep. It's a family business, with two of their sons, a daughter-in-law and a close friend making up the team. After six years in the industry, her son's first steps towards a formal qualification inspired her to explore her own potential.
"In 2021, we were going through the process of signing my son Jack and his best mate up for their apprenticeships, and I thought to myself, I should give it a go too. I love my job and I wanted to do everything I could to help grow the business," she says.
Two years on, she's now completed a flooring apprenticeship with BCITO, a business division of Te Pūkenga.
It wasn't all smooth sailing for June, especially juggling six kids (the youngest was 12), a business and schoolwork. "I loved learning alongside the boys and doing our apprenticeship together, but I won't lie, balancing a family, study and running a business was no easy task. But I've learnt a lot, and I feel really empowered now that I run my own van and oversee projects."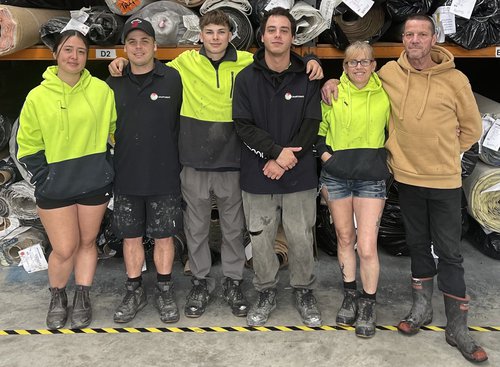 Her new skills were put to the test when Murray had to take a long break from the tools, meaning June was running a van on her own and needed to step up as the team leader. It showed her how much she knows and how much she'd learnt. June says she impressed herself, as she hasn't had to ask for help, she knows how to solve problems and she has gotten really great feedback from clients.
Being a woman in the construction industry also had its challenges, which she has managed to overcome in her typical determined style.
"It can be disheartening – stable jobs coincidentally fell away when my husband took a step back from the tools, despite my experience and skill. Ultimately, it was for the best as I have been able to foster new connections and great relationships. It's been a journey, but I wouldn't change it for the world," she says.
She now supports local business The Flooring Room with all their vinyl work.
"The team at The Flooring Room have been so lovely and supportive; they were so happy for me when I received my qualification. There are some wonderful people in the industry. I am so grateful that everyday I get to work with Murray, Morgan, Hayden, Jack, and Briana. I am so proud of my family and everything we've achieved."
June is also grateful for everything she learned through her apprenticeship, calling out the "incredibly accommodating" Jason Bean and the team at BCITO, which has led to lots of commercial work. She's absolutely loving her more hands-on role as a fully qualified flooring expert.
"I love the process, being able to completely transform such an integral part of homes and buildings. It is physical work and can be hard on the body, but I really enjoy it. From the uplift to the final product, it's a gratifying task," she says.
More News
Jess Nielsen stands out as a trailblazer after placing third at the 20th Annual Registered Master Builders Apprentice of the Year competition; the first woman to place and the second ever to reach the national competition.
You may be aware of the Government's intention to disestablish Te Pūkenga | New Zealand Institute of Skills and Technology.