Just explore the trades!
That's Jess Leslie's advice to anyone considering a career.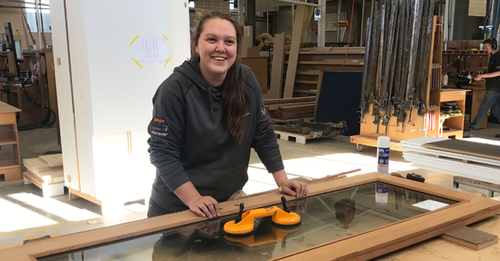 Joinery apprentice Jess Leslie hasn't looked back since embarking on a career in the timber joinery industry. The only regret she has about her job is that she didn't start sooner.
The 22-year-old is three years into her four-year joinery apprenticeship with the Building & Construction Industry Training Organisation (BCITO).
After leaving school, Jess toyed with a job in hospitality, but she knew it wasn't for her. She craved doing something more practical. "I've always wanted to build something with my hands," says Jess. She decided to follow a similar pathway to her mum, who worked as a kitchen designer, and before entering into her apprenticeship with BCITO.
And she hasn't looked back. Jess now works for Andrew Bellamy at Wood Solutions in Dunedin. A typical day might see Jess building cabinets for a kitchen, or perhaps windows and doors, and it's changing all the time. With new technology emerging, Jess gets opportunities to learn how to use new wood-cutting machines through on-the-job training.
"Every day you're learning something new in this industry," says Jess, "I love the variety." But it hasn't been without a few challenges along the way. She says it was initially difficult to find work and credits the BCITO with helping her get a job. "As a female, entering a male-dominated industry it can be daunting", says Jess. However, she says other women have helped pave the way for her already. She loves the friendly 'family vibe' at Wood Solutions. Jess just wishes that more young women would see the potential of working in the trades and join the industry.
She recently visited a girls' school with BCITO to talk to studentsabout being a joiner and discovered that most of the students didn't know that her job even existed. Jess thinks young people, particularly young women, have a predetermined idea about what a trade involves. "When people hear 'trade', they only think of a builder, plumber and electrician. There are so many more options out there," she says.
"To anyone pondering what may be a good career, if you're interested in doing something practical and hands-on I say give it a g. Just explore the trades. It doesn't hurt to have a look at what's out there and while you're at it check out timber joinery."

Republished with kind permission from JetMAG.co.nz
More News
The Building and Construction Industry Training Organisation (BCITO) has set a record of 16,000 apprentices in training.
Have you heard? – the NAWIC Excellence awards 2021 are happening and open for nominations!