Keen to learn then I'm ready to hire
Brad Gemmell qualified as a bricklayer at 21 years of age and hopped on a plane to London, ready to put his skills to the test. He returned to New Zealand a few years later and began his own business, Brad the Brickie Ltd in Wanaka.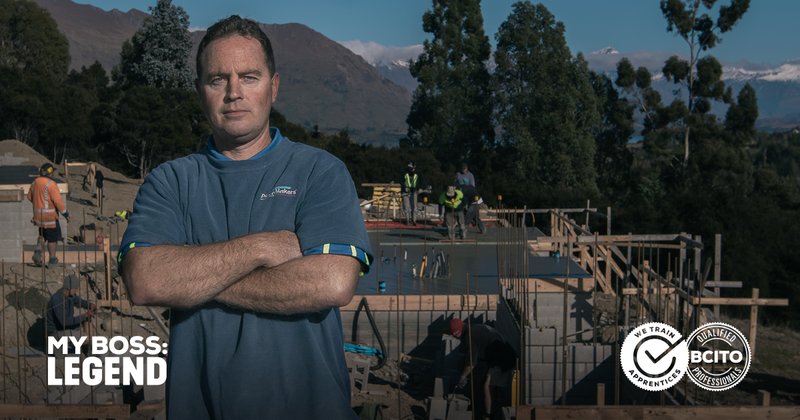 As an employer in the bricklaying industry Brad's main concern is that if bricklayers don't put more emphasis on training young people, the trade will die out. Because of this, he is passionate about training apprentices and showing career seekers what the trade is all about. Brad says, "It's a great trade. I just want young people to know that if you pick up a trowel you will earn a good living.
"We need more bosses giving a chance to young people. I have trained three apprentices through BCITO. My first apprentice, Kurt, was with me for nine years before moving to Dunedin with his young family to start his own bricklaying business. This is exactly what training is all about. 

"When members of my team are thinking about leaving to start their own businesses, I nurture them because I want to know that when they leave they are going to succeed. The more skilled employers we can get in the industry the more apprentices we can eventually train for the betterment of the industry." 
Brad doesn't believe that people signing into apprenticeships need many existing skills to be considered. He says, "If they're keen to learn I'm ready to hire them. While skills can be taught, enthusiasm, passion and interest can't." 
Despite having a team to help carry the workload, Brad is on site most days and takes a hands-on approach to teaching. "I would rather be on site, where staff can ask questions and learn the skills they need than have staff attempt something new, with no knowledge of the processes involved – that's just going to end in disaster," says Brad.
Brad holds regular demonstrations at secondary schools throughout Central Otago, increasing awareness for the industry. He says, "The world is changing and we have to adapt for those changes, accept what is happening and adjust how we do business accordingly. For me, that means more time in schools, talking to my future workforce."
Legend 'wise words'
an effective leader has to be a nice person, be understanding and don't expect the world from your staff because everyone is an individual.
a commitment to industry training means taking on apprentices - if you don't there soon won't be any bricklayers left.
best business decision was entering into a 'handshake' agreement to provide bricklaying services for a housing company when the recession hit several years ago.
life-long learning means learning something new every time you step out of the house. You can't stick your head in the sand.
at the end of a tough week I don't really stop, I just keep going with my own things whether that's mountain biking, cricket, or spending time with my family. I'm an active relaxer.
in 5 years' time I don't know where I'll be. I'm not one of those guys who has a lifelong target, I just go to work every day, do my thing and let life happen to me.
Brad Gemmell, Brad the Brickie Ltd


View Brad Gemmell's story and more stories about other legendary bosses.

More News
NAWIC are delighted to have received a significant increase in entry numbers for their fifth annual Excellence Awards, this year in partnership with BCITO. Finalists have been announced today.
The Building and Construction Industry Training Organisation (BCITO) is pleased that the Government is moving quickly to establish the first construction Centre of Excellence (CoVE).