Get to know your Flooring Advisory Group
BCITO is required to know about and respond to the skill and performance requirements of your sector. One of the ways we do this is through our National Advisory Groups (or NAGs for short). 
We have a NAG for each of the 15 trade sectors that we work with. 
The Flooring NAG is made up of people from your industry who serve as your voice within the BCITO. They give us feedback and ideas that cover many aspects of our business including qualifications, marketing, advocacy, workforce development, industry engagement and digital projects just to name a few. 
So who are the members of this illustrious group I hear you ask? Last week I sat down with NAG member Clayton Villars so you could all get to know a little bit about him and his involvement with BCITO.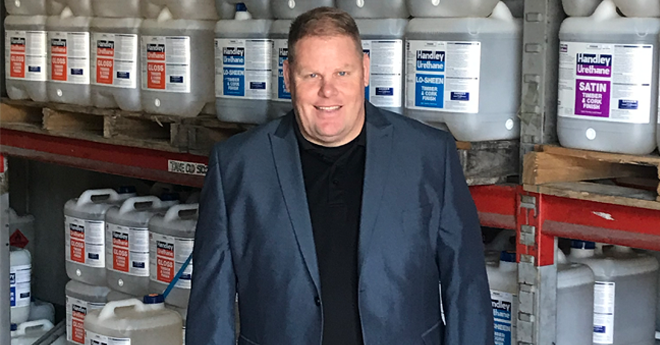 Introducing – Clayton Villars

Clayton Villars is a strong advocate for the Flooring industry. His passion sits within the timber subsector of the industry. He says "I do love timber flooring because it's a natural product, with no two ever being the same. The people that work in the industry enjoy working with their hands and are passionate about what they do. They turn what is often a rugged old floor into a finished product that's pretty special."

Clayton began his career in the flooring industry as a rep for Handley Industries, a New Zealand based flooring preparation products manufacturer and distributor. At Handley Industries Clayton picked up vast amount of product and installation knowledge from, in his words, "a good bunch of old-timers that didn't see me as a threat to their business and were happy to teach me." Clayton is part of the Handleys group, but insists that he doesn't have a formal job title. He says, "If someone wants a coffee, I'll make them a coffee, but I'm still a director when there are decisions to be made in the boardroom."
Clayton says he joined the NAG to give the timber side of the industry a voice. "It's rewarding being a part of the NAG. I'm a huge advocate for training and learning and what it can do for people. It is very important that we keep promoting apprenticeships and training to the flooring sector.  Those who are qualified within the timber side of the industry are highly skilled and can earn a great living," he says.
Clayton doesn't just talk the talk here, he has invested in training and upskilling himself and has achieved his flooring installation qualification, a diploma in timber flooring technology through the Australasian Timber Flooring Association (ATFA), and is a qualified trainer for Langler Machinery. 
Clayton and Handley Industries have also done much to support the training of apprentices that goes beyond his involvement on the Flooring NAG. Handley Industries generously donates products to the Allied Trades Institute to support apprentice training on their block courses. Clayton's father, George Villars (another legend of the flooring industry), also goes down to every timber block course to give a guest presentation to the apprentices. Adding to this, the Villars are also a long-standing sponsor of the annual Flooring Apprentice of the Year Awards and have even donated the aptly named 'Villars Award' to the evening's prize list. 
In his spare time, Clayton loves to get outdoors and up in the mountains either on the bike, skis, or snowboard. He says, "I used to love racing downhill mountain bikes, but I had too many injuries so I had to give that away." He adds with a grin, "I still occasionally go over the handlebars on my mountain bike though."
BCITO would like to thank Clayton for his continued support over the years and his involvement in the NAG. 
More News
The Government has announced a $12.1 billion COVID-19 Economic Response Package for small to medium businesses and employees during this period of uncertainly.
The health and wellbeing of our industry's employers, apprentices, and our people are of paramount importance to us.