Laura Chapman, stonemason
Laura Chapman has travelled from the far ends of the Earth (Britain) to continue her stonemasonry experience in New Zealand.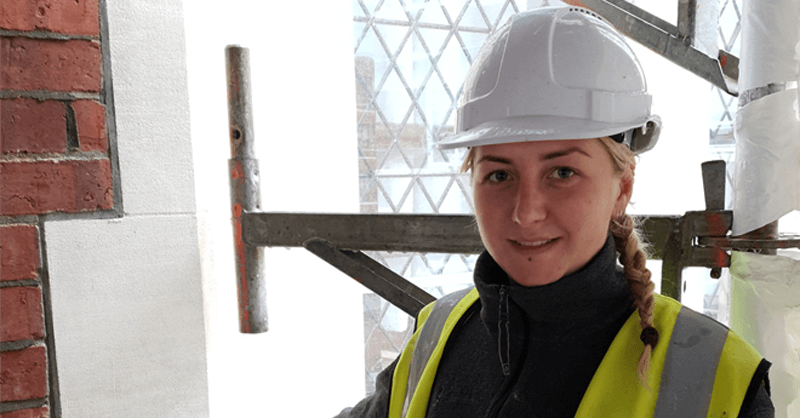 While in high school Laura always imagined herself working in a hands-on career even though the trades were not actively promoted for women. Laura appreciated the many stone buildings in the villages surrounding her and once she had set her mind to it she pursued a Stonemasonry apprenticeship opportunity. With her family's encouragement of her career choice Laura successfully secured a position. 
Laura has continued to work in the stonemasonry industry in both Australia and New Zealand since qualifying in Banker Masonry. She says that people are surprised to hear that she is a stonemason but once she explains what she does and shows them what she can do it becomes obvious that she has both experience and skill in her trade of choice. 
Laura believes it is important to keep the stonemasonry skills alive and to learn as much as we can from how things were done in the past. She looks forward to adapting and learning new techniques as technology grows.
Heavy lifting is part of the job, but Laura says that there are techniques and equipment available to counter that. She finds the accurate decorative work rewarding and enjoys producing a good finish on the stone she has shaped. Laura hopes to keep learning about different types of stone from around the world and the different ways to shape and present them. 
While in New Zealand she has been part of the beautiful heritage restoration work at the University of Victoria, Wellington, with employer Ben West of Stoneworks who have been involved with major restoration work at Victoria University on and off for over 10 years. Ben says that Laura is "pretty clued up and good at what she does."
Laura believes that to be successful in stonemasonry "you need to have patience as the work is sometimes hard, slow and tedious. However, the finished product is rewarding and should be around for hundreds of years, so getting it right is important". 
More News
The Building and Construction Industry Training Organisation (BCITO) has set a record of 16,000 apprentices in training.
Have you heard? – the NAWIC Excellence awards 2021 are happening and open for nominations!