Lead well by encouraging others
With 25 years industry experience, Shawn Evans runs Gateway Glass & Aluminium Ltd in Tokoroa and employs 43 staff. When it comes to learning, for Shawn there is no such thing as 'too late'.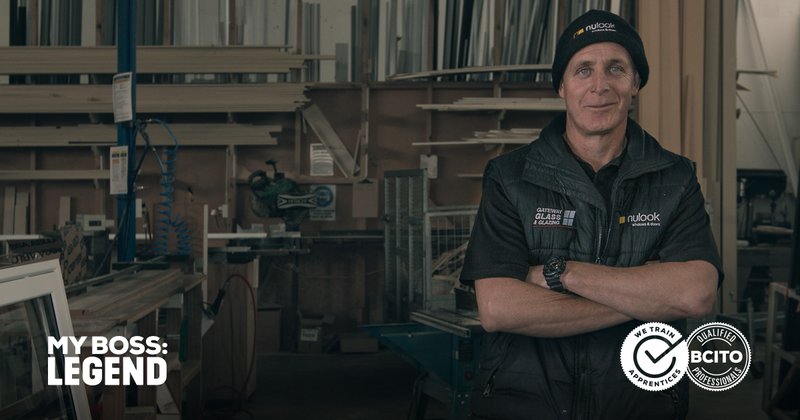 Just this year Shawn gained his own qualification in Architectural Aluminium Joinery. As an employer Shawn saw the importance of industry training, but rather than just telling his staff to 'get qualified' he decided to lead by example. 
Shawn didn't train alone; he was one of 7 undergoing industry training at Gateway Glass & Aluminium. Shawn says, "To lead well is to encourage others to better themselves by positive reinforcement. As an employer who trains you are helping to prepare someone for their future - no matter where they end up. 
"It is extremely important to train good quality people to be able to, not only do our job successfully now but to move into the future for the success and continued growth of the company and the future success of the industry as a whole.
"I actively encourage our employees to learn something new instead of doing the same old thing every day. Our people set themselves high standards which increases skill levels and in return, enables us to produce a larger volume of better quality product. The best outcome from this is happy customers. Without skilled people, we wouldn't be able to offer quality workmanship or train new staff competently and to a high level.
"To commit to training you have to have an open mind and a willingness to continued learning throughout your own career too. Don't think it is going to be easy because it's not. You have to understand your employees' weaknesses and strengths, and also your own. 
"It's not all about training; you also need to notice what you're staff are doing right and let them know you appreciate them. I have an 'open door policy', where people can talk with me in confidence at any time, including after-hours, about anything! We also foster teamwork through providing a social club that organises mystery trips, fishing, ten pin bowling and team dinners, as well as BBQs and birthday shouts for all staff. All this goes a long way to helping with retention of staff and shows them you care, not just about their work but about their overall well-being."
Legend 'wise words'
an effective leader sets a good example and leads from the front. You can't expect employees to do anything you wouldn't do yourself. 
a commitment to industry training means securing future work - without skilled people we can't offer quality workmanship or train new staff competently and to a high level.
best business decision going into partrnership with good friends Warren & Lyn Olliff after starting the business and operating on my own for the first 2-3 years.
life-long learning means having an open mind and a self-commitment to continued learning.
at the end of a tough week I spend time at home with family, and 'active' relax, such as walking my dogs or taking them out hunting or fishing which gives me time to reflect on my week.
in 5 years I hope to still be involved in the industry but maybe not doing quite so many hours!
Shawn Evans, Gateway Glass & Aluminium Ltd
View Shawn Evans' story and more stories about other legendary bosses.
More News
NAWIC are delighted to have received a significant increase in entry numbers for their fifth annual Excellence Awards, this year in partnership with BCITO. Finalists have been announced today.
The Building and Construction Industry Training Organisation (BCITO) is pleased that the Government is moving quickly to establish the first construction Centre of Excellence (CoVE).