Leading by example proves worthwhile
Bernard Scott is a man of many talents. When he first started out in the industry more than thirty years ago, he trained as a Painter/Decorator.  Since Bernard took over the family's Levin business in 2015, B M Scott Ltd's main focus has shifted to Resin Flooring, although Bernard says they still take on the occasional work in Painting and Decorating.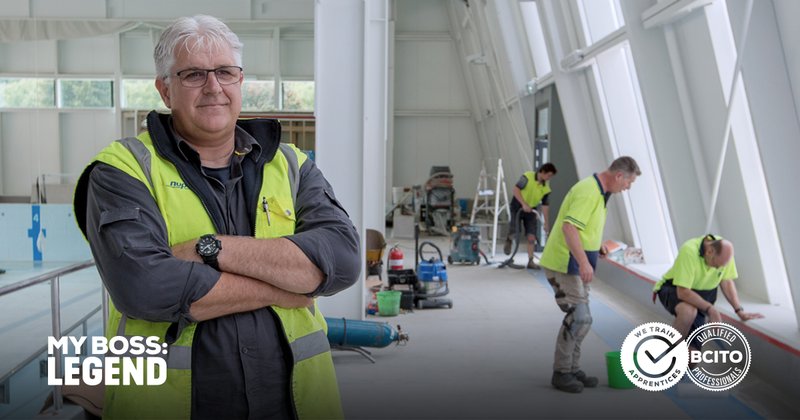 In recent years, Resin Flooring has taken off in areas where there are stringent hygiene and safety requirements like commercial kitchens, butcheries and aquatic centres. With projects ranging from small domestic jobs to large commercial ones, there is a lot of variety in the work B M Scott undertakes.
Just because he now manages the company doesn't mean Bernard has lost his touch on the tools. Bernard says, "It's important that our people know no one job is more important than another. We are all cogs in the machine and must work together to get the best result."
Bernard is often found leading by example, working alongside his team on site. He says, "You can't learn a skill by watching a YouTube video, you have to turn up to work day-in and day-out, putting in a great effort in what can often be a pretty tough environment.
"We have had a lot of difficulties finding skilled staff in our industry in our region, so we believe a great option is to train new people. Training people through the apprenticeship system not only raises a company's skill level, it also raises the individual giving them greater job security and benefits the industry as a whole. I want people to learn so that they can pass it on to newer people."
As an employer, Bernard says his proudest moments come when he sees the look on an employee's face when they complete something to a high standard. "That sense of self-pride they have in their work is worth putting in the effort to train them up. It gives me a great sense of achievement that we have facilitated that opportunity for an individual."
But it doesn't stop there; even having spent his life on the tools, Bernard believes there is an opportunity to learn something new every day. "Never stop learning, and you'll be set up for life," says Bernard.
Legend 'wise words'
an effective leader leads by example and is hands-on.

a commitment to industry training means always training new people.

best business decision taking over the entire operation in 2015 when Dad retired.
life-long learning means always having a go - I still like to learn something new every day.

at the end of a tough week I'll be playing on or in something with a motor; whether it's the bike, boat or car.

in 5 years I hope I won't be working as hard as I am now.

Bernard Scott, BM Scott Ltd

View Bernard Scott's story and more stories about other legendary bosses.
More News
NAWIC are delighted to have received a significant increase in entry numbers for their fifth annual Excellence Awards, this year in partnership with BCITO. Finalists have been announced today.
The Building and Construction Industry Training Organisation (BCITO) is pleased that the Government is moving quickly to establish the first construction Centre of Excellence (CoVE).