Learn from Lindsay
When Lindsay Gagen took up a labourer's job with a bricklayer 43 years ago, he never thought it was going to lead to a career in the industry. It was a stop gap job to fill in time as he was waiting for the next intake for his local farming school.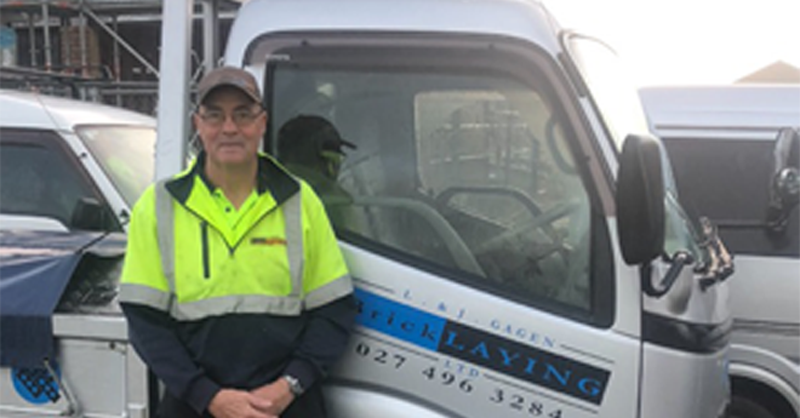 After a couple of months working as a bricklayer something struck a chord in Lindsay and he decided that maybe this was the career path for him. 4 years later, and many a brick and block laid, he was a qualified professional.

Following this, Lindsay took a year off to go exploring, before returning to work as a qualified brick and block layer. 18 months later an opportunity came up to start his own company. Jumping at this opportunity, Lindsay created the company L & J Gagen Bricklaying Ltd based out of Papakura. 

Thirty-nine years later and Lindsay is still running his own company, but he's not as hands-on with the tools as he used to be. "I have just had two guys qualify, I have another in the first year of his apprenticeship and I have just taken on a labourer who will work toward an apprenticeship as well," Lindsay says.
Training his staff is an absolute must for Lindsay and it's something he tries to instil in his employees as well, "I had the opportunity given to me when I was younger and I want to give back to youth today. I know that these guys aren't going to stay with me forever, so when they qualify and go out on their own I hope that they are all training their staff too," says Lindsay. As an active member of the Brick and Block National Advisory Group (NAG) for BCITO, Lindsay is more than aware of the need to train within the industry if we are to see the growth that's required.
BCITO were very fortunate to acquire the services of a former L & J Gagen Bricklaying employee Shaun Gibson as a Training Advisor in 2018. Shaun did his apprenticeship with Lindsay so is very qualified when it comes to describing what makes Lindsay such a great employer. Shaun says, "He is so passionate about his industry and he does his best to instil that passion in his staff, any way to pass on his wide range of knowledge he does." From a training perspective, Shaun loved the way Lindsay backed your skills, "He would explain and show you how things needed to be done and then he would let you figure things out on your own, but he was always there to help if you needed it."
So for those employers that are thinking about taking on an apprentice or putting one of their labourers through a qualification, Lindsay says, "Go for it! It's a win-win for the employer and the apprentice. You are only going to reap the benefits from a company perspective in the long term as you are teaching your apprentice how you want them to learn and perform." The brick and block laying industry has been very fortunate to have the services of Lindsay Gagen for so long, and it's pleasing to know that he has continued to turn out qualified professionals who are continuing to pass on the same values. 
More News
The Government has announced a $12.1 billion COVID-19 Economic Response Package for small to medium businesses and employees during this period of uncertainly.
The health and wellbeing of our industry's employers, apprentices, and our people are of paramount importance to us.