Taking on the trades later in life
BCITO Painting and Decorating apprentice Mike Proudfoot is no stranger to hard work.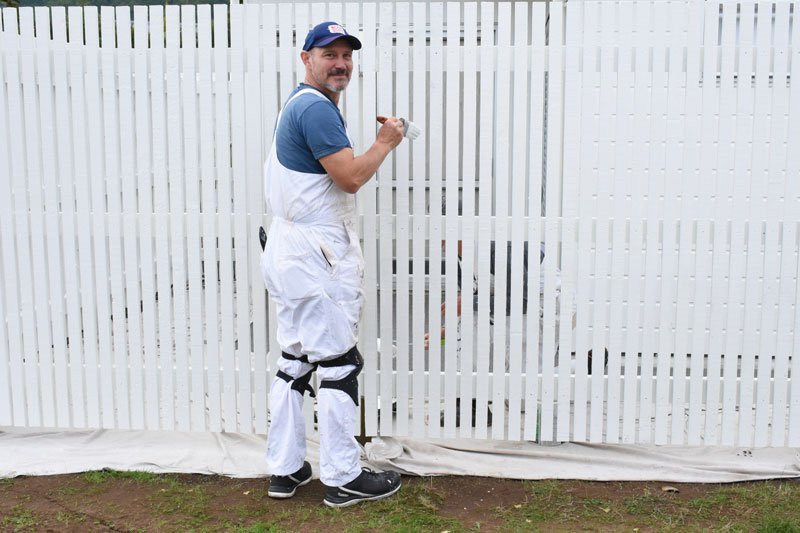 Having left school at 16, Mike worked in the printing industry for 30-years, and then he decided to take on an apprenticeship in 2021.
"I decided it was time for a change. The printing industry, while great to work in, is high-pressure and undergoing significant changes. I also wanted to be my own boss and do something more hands-on."
Painting was the natural choice for Mike as he already had some experience under his belt.
"I wanted something that I could do for the next 20 years. While building and construction was certainly appealing, I really enjoy the sense of achievement I get from painting. I also want to eventually be my own boss and start my own painting and decorating business."
Mike is currently working for John Braddock at Braddock Painting, who is putting Mike through his BCITO Painting and Decorating apprenticeship.
"My qualification is competency-based. I submit images and videos of my work through myBCITO online learning management system, and John liaises with my BCITO training advisor Sally Davis who visits me on-site to ensure I'm meeting the required standards. I'm really grateful that John has given me the opportunity to retrain. He has over 30 years experience and is a wonderful, patient teacher to learn from."
He encourages anyone who is considering a career switch later in life to take the plunge.
"It's not too late to do something different and you are never too old to stop learning. Look around, determine what you find enjoyment in, and make the switch. While it can be daunting to leave an industry that you have knowledge and experience in, it's worth it in the end."
Jason Hungerford, Director of BCITO, says that the average age of apprentices has increased over the past few years.
"The average age of our apprentices is around 28. Apprentices can join a trade straight from school, but many people are also doing so later in life. Perceptions are changing and people are starting to realise that the trades provide fantastic careers. Apprentices can earn and learn, and end up in a well-paying job with a strong work-life balance."
A recent study by AUT reports that the number of people likely to leave their job has increased from 34.7% to 46.4% since the inception of Covid. The study also showed that one of the professions that is most likely to retain employees is the trades.
BCITO needs more apprentices of all ages to consider a career in the trades. Learn more
More News
Wood Solutions have been carving out the way for sustainable practices and diversifying their workforce. They are minimising and repurposing waste and create a healthier and more welcoming workplace where 1/4 of their workshop are female.
Jenna Toailoa and her husband Manu's RedRock Plastering has been making a name for themselves with their high quality work all the while taking on apprentices, showing it can be done!